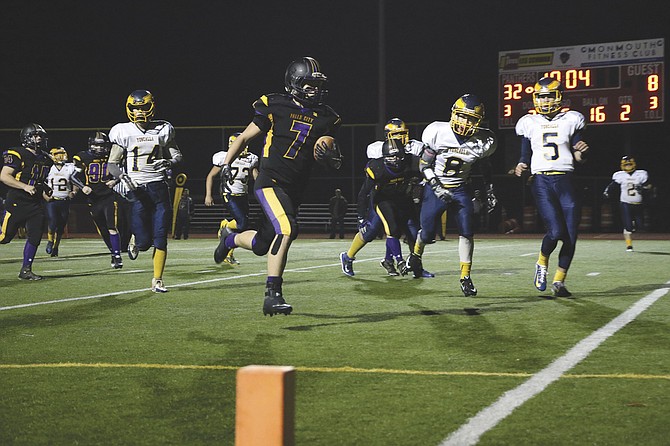 INDEPENDENCE — It was a moment Falls City's football program had waited 34 years to experience.
At long last, the Mountaineers are headed back to the state playoffs.
"I got teary eyed knowing that Falls City hadn't made it in so long," junior Jeremy Labrado said.
Falls City defeated Yoncalla 78-30 in a Special District 3 playoff game on Friday to earn a spot in the 1A state playoffs.
"We jumped out 32-8 and I thought, here we go," coach Laric Cook said. "Then I think they must have decided to look around and wave at the parade before the parade got started and went flat for a little bit there, and we led 44-16 at the half. I think we came out there in the second half, and I think we took over."
Austin Burgess scored five touchdowns and recorded an interception. Noah Sickles added three touchdowns, Jeremy Labrado added two scores and Dylan Young scored one touchdown.
While players took a moment to soak in their accomplishment, Cook knows the Mountaineers can't let up.
Falls City, the 12th seed, plays at No. 5 Dufur Friday at 7 p.m.
"We have to take it one game at a time and work hard in practice," Sickles said.
The Rangers provide a difficult challenge. Dufur, the defending state champions, went 8-1 overall, including a 54-12 victory over Falls City on Sept. 9.
"They expect to be in the state championship every stinking year," Cook said. "They don't let up. They put their foot on your throat and get it over with quick."
But the Mountaineers won't just lay down. In the teams' first meeting, Falls City was missing several key starters, and the Mountaineers are a far-improved team than the one that took the field against Dufur in September.
"Nothing is set in stone," Cook said. "If we play defense the way we're taught to play defense, they're not just going to go up and down the field on us, and we'll come up with a game plan to move the football on offense, which we are capable of doing."
Friday will be uncharted territory for Falls City's players — but they don't have the luxury of getting acclimated slowly.
"They can't admire the scenery," Cook said. "All you can ask for is a chance. We're one of the last 16 teams playing. We'll throw our hat in the ring and see what happens."
The last time Falls City's football team made the playoffs, none of its current players were born yet. While players know they can't afford to sit back and relax just yet, for at least a few hours on Friday night, players enjoyed the moment and the pride of what they accomplished against Yoncalla.
"It's exciting," Sickles said. "We haven't done anything like this in Falls City for a long time. It's great to be a part of it."