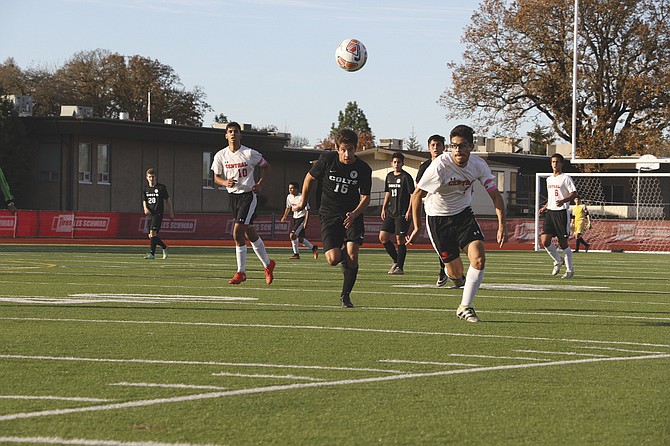 INDEPENDENCE — Central's boys soccer team trailed Thurston 1-0 at the half of its state play-in match on Saturday.
Coach Joe Orozco had a simple question.
"I asked them are you ready to go home or do you want to keep playing," Orozco said.
The Panthers responded with a clear answer.
Lucas Muller tied the match, and Juan Ortiz scored the game-winner as Central earned a 2-1 victory and advanced to the first round of the state playoffs.
The Panthers spent much of the first half pressing — to the point of rushing passes.
"I told them don't rush into anything or pressure anything," Orozco said. "Let's just play our game. Don't play their game. Settle down, find the open spaces and get open and make it happen."
They showed patience in the second half, and it wasn't long before Central capitalized on an opening.
"We noticed their center backs were pretty slow," Muller said. "We have good speed up top and on our wings. Tony (Rincon) and I talked, and I said find me on the through ball. We did and it worked out."
Once Ortiz gave Central the lead, players settled down and preserved the victory.
"We were all so pumped," Muller said. "We knew once we got ahead, an air of calm would come through us."
No. 13 Central plays at No. 4 Hillsboro Wednesday (today) at 7 p.m. in the first round of the state playoffs.
The Panthers have advanced to the first round of the state playoffs each of the past two years, but lost those matches by a combined score of 8-1.
Players are eager to show they are ready to take the next step and advance.
"We want to go out there and prove that we can do more," Rincon said. "We want to show that we can be up there with these teams."
Hillsboro finished 10-2-2 overall and 6-1 in Northwest Oregon Conference play, finishing first.
Central won't be intimidated by Hillsboro's success, Orozco said.
"I think the key is for our players to play their game instead of trying to score off every pass," Orozco said. "It's about who wants it the most now. If we want it hard enough, I think we'll advance. If we don't, we're just going to come home."