EUGENE — Dallas sophomore Trevor Cross placed 37th in the boys race of the OSAA state cross-country championships on Saturday.
Cross finished the 5,000-meter race with a time of 17 minutes, 9 seconds at Lane Community College in Eugene.
"I had a good experience at state," Cross said. "I liked the competition, and the course was pretty good. I didn't run as fast as I wanted or placed as well as I wanted to because my shoulders were too tight and I started cramping."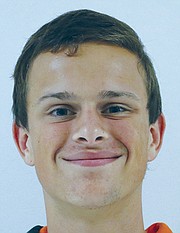 Cross also qualified for state in the 3,000-meter run during track and field season earlier this spring and drew from that experience to help him prepare.
"It helped because I knew what to expect," Cross said.
Junior Andy Moore, of Crater, won the boys race in 15:21.
Cross accomplished a lot during the 2016 season — including a second-place finish at the Mid-Willamette Conference district championships — but he hopes it's just another step toward something greater.
"I can take away from this season that because there are things that can go wrong that I cannot control, I need to give my best at every meet," Cross said. "I might not get another opportunity to set a personal record, so I have to use every opportunity I get."