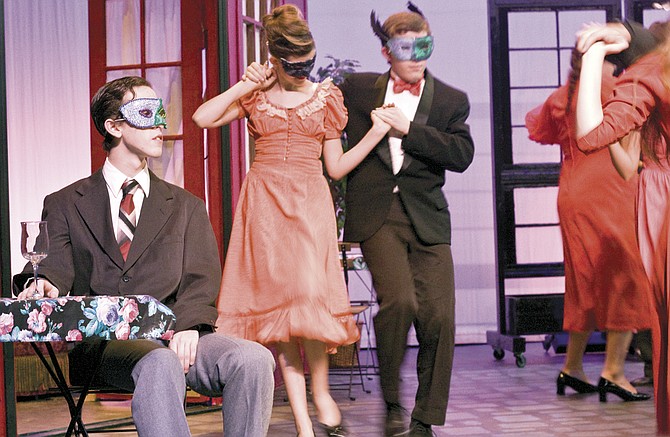 DALLAS — This marks the 400th anniversary of Shakespeare's death, and theater companies the world over are celebrating with productions of the bard's works.
"I wanted to participate in that," said Blair Cromwell, Dallas High School's drama teacher.
Her choice of "Much Ado About Nothing" is timely.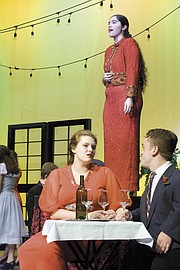 One of the themes in the comedy is the double standard in the behavior of men versus women, especially regarding a woman's "virtue" or perceived lack thereof, Cromwell noted.
"The play addresses all of those things," she said. "It was time to check in with those age-old questions."
Showtime!
What: Dallas High School's production of "Much Ado About Nothing."
Where: Bollman Auditorium, 1250 SE Holman Ave.
When: Thursday through Saturday at 7 p.m., and 2 p.m. on Saturday.
Admission: $5 for online tickets; $6 at the door. For online tickets: https://app.arts-...
In the title, the word "nothing" is a play on words, meaning "rumor" in Shakespeare's time.
Rumor and innuendo have a significant role in the play, as do miscommunication and misunderstanding, both with comedic and dramatic consequences. The play runs Thursday through Saturday at Dallas High School.
The very first scene, an addition for this production, set in Paris just before the outbreak of World War II, illustrates the havoc created by a misunderstanding between two lead characters, Beatrice and Benedick. Longtime friends, the pair are celebrating a brief engagement before Benedick is called to fight.
"He proposes to her at the very beginning," said Olivia Widmer, who plays Beatrice.
Their bliss is interrupted when Beatrice is convinced the Benedick has kissed another woman.
"Beatrice calls off the engagement because she thinks he has cheated on her," Widmer said.
The next scene has the soldiers returning from war, but for the pair, another is about to begin.
"Beatrice is salty," Widmer said.
"We have this big argument in front of everybody," said Dylan Bauman, Benedick in the play.
The two are evenly matched in a Shakespearean war of words.
"It's fun for everybody because we are being witty; it's witty banter," Widmer said.
Bauman said both characters disguise their true feelings.
"I always keep this persona that I'm this cool, likable guy. In reality there's a lot of pain that I've had," he said. "He wants to be liked and it drives him crazy that Beatrice doesn't like him."
That's what Beatrice would like him to think.
"I don't like him, but I do love him," Widmer said.
That storyline coincides with another relationship complicated by rumors of infidelity, that of Beatrice's cousin, Hero, and young soldier, Claudio.
Three of the cast members attended Oregon Shakespeare Festival's summer seminar for high school juniors, which has helped the actors interpret the language in the play, Cromwell said.
Stage manager Elizabeth Davis, in her first stint running a show, said the cast and crew have adapted well to their production of the Shakespeare classic.
"It's really interesting to work with everyone. It's a lot of responsibility," she said. "It's going amazing. I'm happy with how it's turning out. It's really been great to work on it."