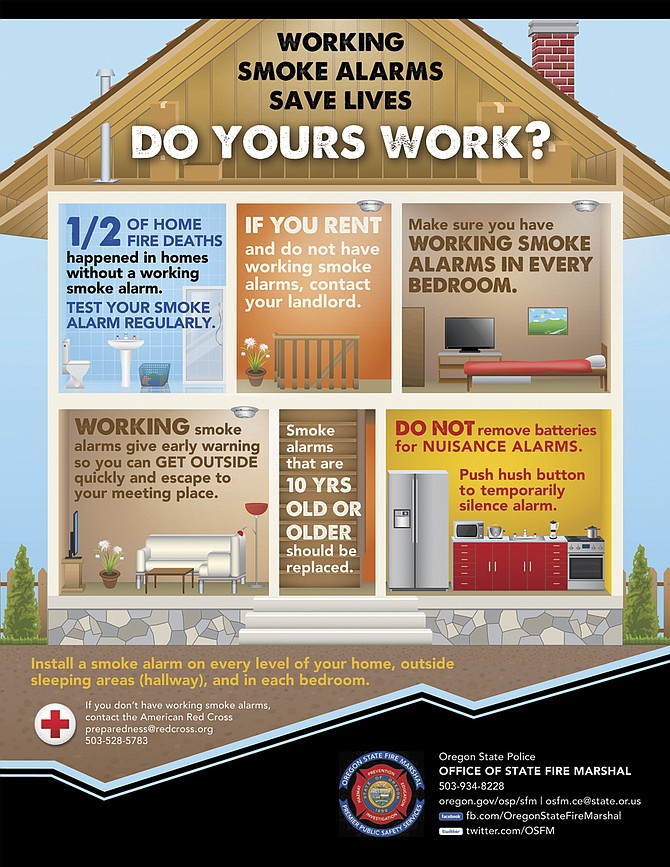 POLK COUNTY — With the holidays around the corner, fire safety may not be at the top of your to-do list, but it should be.
The weather is changing, getting colder, and daylight is getting shorter. Both mean people are lighting fires in their fireplaces, wood stoves, or breaking out the space heater.
"Right now, with the colder weather coming, we want to focus on where people are placing their space heaters, making sure they have their smoke alarm batteries changed, and that they check their smoke detectors once a month," said April Welsh, Dallas Fire & EMS spokeswoman. "Statistics show that working smoke detectors do save lives."
Before you light your next fire, be sure to give it a good cleanout.
Chimney cleaning tools can be borrowed from both Dallas Fire and from Polk County Fire District No. 1.
"PCFD has a chimney brush loaner program," said Neal Olson, Polk Fire deputy chief. "There are a few professional chimney sweeps around, but not many."
Dallas asks for a $20 refundable deposit for their program, Welsh said.
The No. 1 cause of house fires year-round is cooking, Olson said.
Welsh agreed, noting that turkey fryers are especially dangerous. In fact, the National Fire Protection Association discourages the use of home turkey fryers that "can lead to devastating burns and other injuries, and the destruction of property due to the large amount and high temperature of oil used," according to nfpa.org.
To prevent cooking fires, do not leave food unattended and make sure flammable objects — hot pads, washcloths or kitchen towels — are away from the heat of the stove and oven.
It won't be long before strings of Christmas lights will be hauled down from the attic and plugged in, draping trees and decorating homes.
When it comes to Christmas lights, don't overload outlets — another common cause of house fires.
"Turn off Christmas lights when leaving the home," Olson said. "Blow out candles when not home, and don't overload receptacles. Use power strips if necessary, but don't overload them, either. A power strip plugs into a wall, not another power strip and not an extension cord."
If you didn't take advantage of the end of daylight saving time to check your smoke alarm, do it today.
Smoke detectors don't do any good if they aren't working, and the fire departments can even send someone out to help.
"We're more than happy to come check out somebody's smoke detectors," Welsh said.
If your alarm tends to go off while cooking, it may be poorly placed, Welsh added.
"What we don't want to see, and we've seen this before, people will have a smoke detector, and it keeps going off because of their cooking habits," she said. "They take the battery out or remove the whole unit. We would rather they call us so we can help find a better place to put it."
Take the opportunity of family gatherings during the holidays to review — or begin — fire evacuation plans.
Each room should have a primary and secondary exit, Olson said, and plans should include a family meeting place.
Also, keep exits clear and reduce clutter.
"We have done fire drills in my home," Olson said. "They make a tremendous impact. When our alarm goes off, my 17-year-old son is standing at the front door before he asks if it's a drill or not."
Welsh said one of her tricks is keeping doors closed when the family sleeps.
Doors can keep smoke out and help contain a fire, potentially minimizing damage.
"A safety plan — not just for fire, but for emergencies in general — make sure they know what they're going to do in the face of emergency," Welsh said. "Have some kind of plan in place for their family."
And never hesitate to dial 911, Welsh added.
"Some people feel like they can put out their own fire, but that's what we're here for," she said. "We would not want someone to be injured because they're trying to extinguish their own fire. We have more tools available to work the fire and to minimize the damage that would be done to their residence."
Polk No. 1, Dallas Fire and Falls City Fire Department are volunteer departments.
For more information on volunteering and what kind of help is needed: Dallas and Southwest Polk, April Welsh, 503-831-3532; Polk No. 1, Neal Olson, 503-838-1510; Falls City, Bob Young, 503-787-3767.
For a printable guide to planning a fire escape route for your family, visit the Oregon State Fire Marshal's website at: oregon.gov
/osp/sfm.
Use the drop-down menu on the righthand side under "education branch," and choose, "Home fire prevention and safety."
There you will find more tips on how to keep safe from house fires, including a home evaucation plan.
Local fire departments are also willing to give tips.