BILLINGS, Mont. — Western Oregon sophomore David Ribich finished 15th at the NCAA Division II West Region Championship on Saturday afternoon.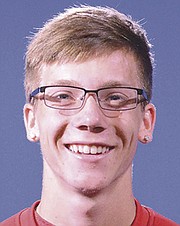 Ribich completed the 10,000-meter course in 30 minutes, 36.07 seconds and earned All-Region honors.
Junior Josh Dempsey placed 78th in 32:29.3.
Junior Kennedy Rufener led the women's team with a 27th-place finish. She completed the 6,000-meter course in 22:11.25. Sophomore Grace Knapp took 32nd in 22:17.23.
VOLLEYBALL DEFEATS ALASKA FAIRBANKS: Western Oregon's volleyball team defeated Alaska Fairbanks 25-23, 25-14, 25-20 on Thursday before falling to Alaska Anchorage 25-21, 25-19, 26-24 on Saturday.
Against Alaska Fairbanks, junior Sydney Blankinship recorded 10 kills, three digs and three blocks to lead the Wolves. Senior Paige Orth added nine kills, while junior Alisha Bettinson and sophomore Mariella Vandenkooy had eight. Sophomore Maddie Mehciz recorded 37 assists.
Western Oregon (9-14 overall, 6-10 Great Northwest Athletic Conference) played Concordia Tuesday after press time. The Wolves host Montana State Billings Thursday at 7 p.m. in the team's final home match of the season.
FOOTBALL FALLS AT AZUSA PACIFIC: Western Oregon's football team lost to Azusa Pacific 33-8 on Saturday. The Wolves did not score until the fourth quarter, when quarterback Nick Duckworth hit receiver Paul Revis for a 70-yard touchdown. Azusa Pacific held Western Oregon to 235 yards of total offense.
WOU (3-6 overall, 2-5 GNAC) closes out the regular season at Simon Fraser Saturday at 1 p.m.
WOMEN'S BASKETBALL TO HOST SHOOTOUT: Western Oregon's women's basketball team will host the WOU/Hampton Inn Division II Shootout this weekend. The Wolves will play San Francisco State Saturday at 4 p.m. and Cal State East Bay Sunday at 2 p.m. WOU defeated Linfield 82-71 on Oct. 31 before falling to Portland State 100-96 in overtime in the team's two exhibition games.
MEN'S BASKETBALL TO OPEN SEASON: Western Oregon's men's basketball team will open the 2016-17 season at the GNAC/Pac West Challenge this weekend in Fresno, Calif. The Wolves play Point Loma on Friday and Fresno Pacific on Saturday.