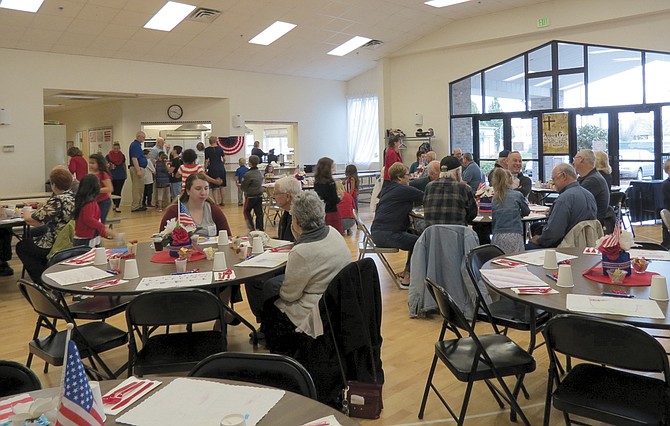 Art center to hold empty bowls sale
Willamette Art Center will hold an empty bowl sale Saturday from 9 a.m. to 5 p.m. and Sunday from noon to 4 p.m.
Bowls of all sizes, shapes and styles will be available.
The sale benefits the Marion-Polk Food Share. The sale takes place at the Oregon State Fairgrounds, 2330 17th St. NE, Salem.
For more information: www.willametteartcenter.com.
Gospel music jam on Thursday
Dallas area seniors will hold a gospel music jam Thursday from 6:30 to 9 p.m. at the Dallas Senior Center, 955 SE Jefferson St., Dallas.
There is no cost to attend.
The jam will feature local musicians and singers.
For more information: 503-623-9055.
Orquestra Brasil to perform at WOU
Orquestra Brasil with Wagner Trindade will perform at Smith Recital Hall at Western Oregon University Sunday at 7:30 p.m.
The show will feature music by composers from the Brazilian state of Mina Gerais, including Toninho Horta.
Orquestra Brasil is a 12-member student ensemble at WOU featuring voices, reeds, flutes, violins and a rhythm section. It is led by Dr. Tom Bergeron.
There is no cost to attend.
Museum to host Rep. Paul Evans
The Polk County History Museum, 560 S. Pacific Highway West in Rickreall, will host Representative Paul Evans Saturday at 1:30 p.m.
Evans will speak about his history of working in public service in Polk County and the Governor's office, as well as his experience serving in Afghanistan with the U.S. Air Force.
Holiday pet fair Saturday
Pet photos with Santa and the holiday pet fair is set for Saturday at Old Mill Feed and Garden, 1313 Main St., Dallas.
Photos with Santa will be available from 10 a.m. to 2 p.m. for a $6 donation. All proceeds go to local animal-related charities.
Dr. Chad McGuire will be available to answer pet questions, and rides on a holiday Bernese Mountain Dog cart and holiday gift vendors will be available.
A drawing for a GoPro Hero4 will be held at 3 p.m.
All dog and cat foods will be on sale.
For more information: 503-831-1222.
Volunteers needed to check lights
Dallas Fire & EMS and the Dallas Area Visitors Center are looking for volunteers for light bulb replacement and check for holiday decorations Thursday at 6 p.m. at Dallas Fire Department, 915 SE Shelton St., Dallas.
A kids area with a movie playing and holiday crafts will be available.
There are 40 spots available. Please RSVP by calling the visitors center at 503-623-2564. Pizza will be provided by Ugo's and paid for by the visitor's center.
Trinity Lutheran Thanksgiving meal
Trinity Lutheran Church, 320 SE Fir Villa Road, Dallas, will hold a free community Thanksgiving dinner on Nov. 23 at 5:30 p.m.
A community worship will follow at 7 p.m.
Free meal delivery is available to Dallas residents with disabilities within city limits.
Please arrange delivery by calling 503-623-2233 by Tuesday.
Falls City to hold holiday dinner
Falls City will hold a free community Thanksgiving Dinner Saturday from 11 a.m. to 3 p.m. at the community center.
All are welcome.
Volunteers and food donations are needed.
For more information: Kristy Major, 503-881-3993.
Thanksgiving Luncheon at Central
Central High School's leadership class will sponsor the Senior Thanksgiving Luncheon Nov. 23 at noon.
The event is free for all senior citizens in the area and will be held in the Central High School cafeteria, 1530 Monmouth St., Independence.
In addition to a traditional Thanksgiving meal, the Main Street singers will perform and a gift raffle will be held.
Illahe Vineyards open house Saturday
Illahe Vineyards, 3275 Ballard Road, Dallas, will hold its Thanksgiving weekend open house Friday through Sunday from 11 a.m. to 5 p.m.
Current selections of limited pinot noirs will be poured paired with a selection of cheeses, locally made bread, and confections. Cave tours and select barrel tastings will also be available.
Illahe will donate 10 percent of tasting fees to Willamette Cares Food Share.
Artist Kelly Most featured at library
Dallas Library, 950 Main St., Dallas, will feature artwork from Kelly Most through November.
Most, an avid photographer for more than 30 years, will have photographs from some of her favorite spots from around the world on display.
She experiments with paper, printing many photographs on metallic paper, and prefers most images to be in black and white.
More like this story