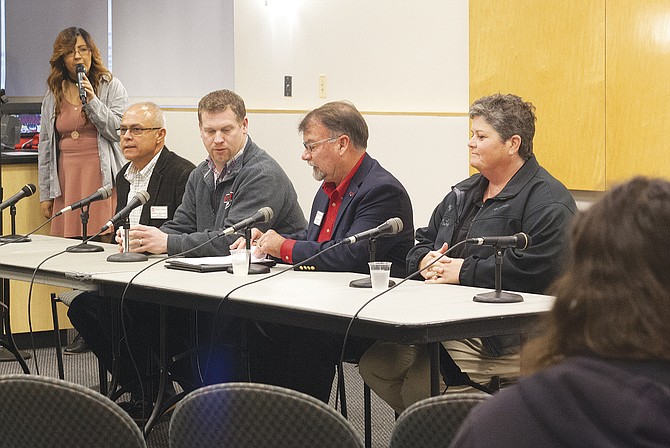 MONMOUTH — Leaders at Western Oregon University didn't have many concrete answers to questions following the Nov. 8 election, but still tried quell fears in a quickly organized forum Friday.
Called "WOU is Alive," the forum was put together by WOU Student Body President Alma Pacheco and featured a panel including WOU President Rex Fuller and representatives from public safety, general counsel, student health and counseling, and student affairs.
Pacheco said many students had a fearful reaction to the results of the presidential election — she was one of them — and she wanted to help restore calm.
"It created a very negative environment," she said. "It's important for folks to be reminded that we need to work together in order to achieve some progress."
Students at the forum asked about the status of the school's international students and those who are part of the Deferred Action for Childhood Arrivals, or DACA. The program, instituted in an executive order by President Barack Obama, allows undocumented children who arrived in the country at age 16 and younger to apply to stay in the U.S. to work or attend school temporarily.
It's a program that President-elect Donald Trump may revoke or change after he takes office in January, Fuller said.
He said Western and other universities across the country will lobby to be part of the debate about the future of that program and immigration reform in general.

"I think you can expect to see more conversation around that, and that conversation will take its form in why our current position on DACA students is the right position to hold with regard to a moral, but also educational, position," Fuller said.
Fuller said he believes WOU will carry on its tradition of being a diverse and inclusive institution.
"Five years from now, we will have even greater participation of underrepresented groups than we do today," he said. "That trend is here to stay."
Fallout from another issue on the ballot, Oregon's Measure 97, will have more defined financial impact on WOU. The measure would have imposed a gross sales tax on corporations with $25 million or more in sales annually. It failed by a large margin, which could spell state budget deficits.
Fuller said the state's university presidents will ask the Legislature to provide enough money to avoid large tuition increases.
"We will be lobbying as a group of presidents to sustain the investment in higher education," he said. "A $100 million investment, if it is successful, would limit tuition increases to less than 5 percent."
He said the reality is universities may have to resort to a combination of tuition increases, using reserves and cuts to balance their budgets.
Safety also was on students' minds at Friday's forum.
Rebecca Chiles, WOU's director of public safety, said what she described as "racially charged, racially motivated" and "gender-motivated" speech that defined part of the presidential campaign has students worried for their physical safety.
Chiles said there hasn't been any specific threats reported, but in response to a number of questions about safety of students, she said her office is "being more vigilant."
"We are being more open, being more watchful," she said. "We will monitor social media more than we ever have done before."
She added if students feel threatened or uncomfortable for any reason, they need to report what they've experienced or witnessed.
"We have to be told about those things to start looking for ways to address them," she said. "Safety is the No. 1 priority."