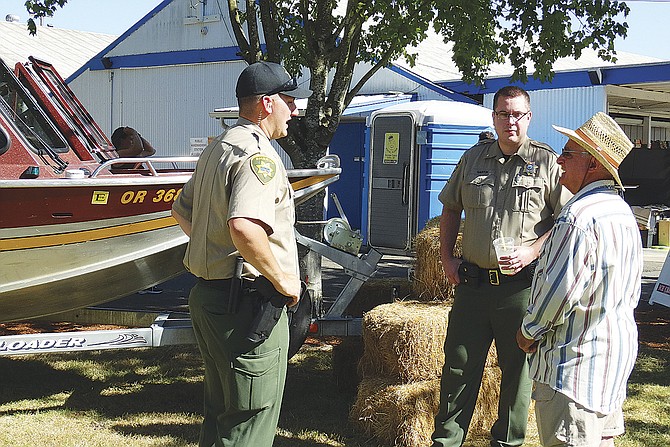 DALLAS — Mark Garton, Polk County's newly elected sheriff, said his first election was an enlightening experience.
He recommends people interested in serving run for office just to experience democracy in action. He enjoyed the process, but that isn't to say he wants to do it again right away.
"Not tomorrow, but in four years," he said following the Nov. 8 election, in which he received 70 percent of the vote (22,125 votes) to 28 percent (8,903) for opponent Todd Whitlow.
Garton has four years before another election night and plenty to do between now and then, he said.
With campaigning in his rearview mirror, Garton can refocus on the new programs his office has launched in the time since he was appointed to fill in for former sheriff Bob Wolfe in December.
Those programs include assigning a deputy to outreach efforts in schools, hiring a mental professional to work in the Polk County Jail, training programs to help those being released from jail find jobs, and the newly established mobile crisis team pairing a deputy with a mental health counselor on patrols.
Garton, whose family is from Pedee, said the amount of support he received in the election was "very humbling."
"It validates the things that we've been doing," he said.
Garton gives credit to Whitlow for giving him competition for the office.
"Todd is very competitive. He made me better," Garton said. "He made me work for it, and it gave people choices."
Whitlow said he saw the election as a win-win for him in that he would have been honored with the opportunity to serve as sheriff. If not, he could continue his career with Yamhill County Sheriff's Office, where he believes he has been successful.
"I called and talked to Mark and wished him all the best," Whitlow said.
The election was his first campaign, too, and he hasn't ruled out another run in four years.
"We will see what happens four years from now," he said. "It's a little bit early to tell."
Now Garton wants to make sure the office's service remains up to Polk County residents' expectations through constant evaluation and seeking feedback.
In the long-term, he said he's going to make sure the property taxes Polk County voters approved for the public safety levy in May 2015 go to good use.
"I want to show them that what we are doing is worth what they are paying for it."