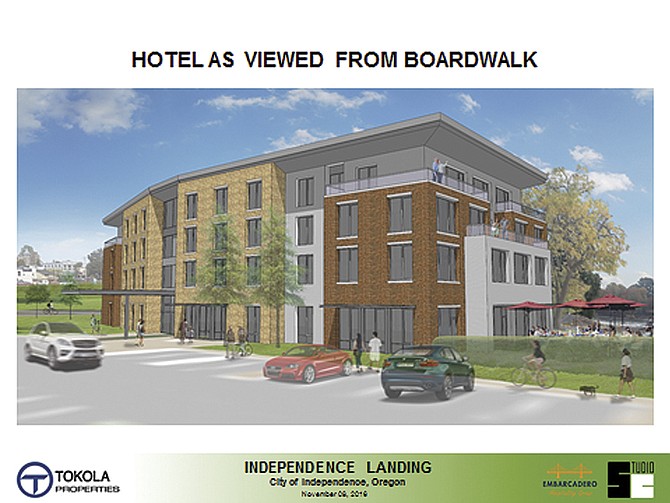 INDEPENDENCE — For Independence, a 20-year dream is on the cusp of realization.
Doing something at the old Valley Concrete site on the Willamette River that would enhance the downtown area has been on master plans for Independence since 1996.
When Valley Concrete moved, it was the city's chance to take action.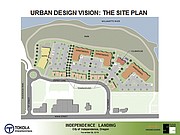 The city bought the property for $800,000, and spent about two years and $3.2 million fixing the land up — leveling, surveying, laying infrastructure — to attract a developer who would build a hotel and housing, increasing foot traffic in downtown and supporting the Polk County wine industry.
Now, the city council has approved a deal with Tokola Properties on four of the nine lots available on what is now called Independence Landing, 11 acres of riverfront property. Tokola will build a 75-bed, four-story boutique hotel first, and then 110 apartments, a clubhouse and 14 townhomes. The hotel will be managed by Embarcadero Hospitality, of San Francisco.
Tokola Properties paid the city $162,000 for the land and plans to invest $42.2 million in the project.
The city will end up giving $2.9 million in incentives for Tokola to continue with the development agreement. Those incentives will be on things such as building permits, system development charges, and other non-cash items, City Manager David Clyne said.
He said an economist from PNW Economics estimates the city will recover $5.3 million invested in the property in 11 years.
Once up and running, the development should bring about $600,000 annually in revenue, Clyne said, including $200,000 in lodging tax, a revenue stream the city of Independence hasn't had much of before.
"It is our intention to use the rest of the lodging tax to help the downtown," he said. "Hire a main street coordinator, partner with IDA (Independence Downtown Association), assist in any way we can. We think that's an investment that will pay back as well."
Clyne said making investments in private-public partnerships has helped make Independence what it is today.
"At the end of the day, you have to say Independence is the place it is today because the city took the bull by the horns," he said. "We built the civic center that people don't think it gives back, but we think it did. It built the parking lot of the movie theater; it built a library. It put in a streetscape, an amphitheater, a beautiful plaza with a fountain — all these things created the dynamic community we're sitting in today. I don't know how you measure a return on investment on those things, but I do know we've got a great city, and I'd put it up against any city in Polk County."
The hotel should be finished in two years and start construction in fall 2017 or spring 2018.
It's something the city has had its eye on for a long time, Clyne said.
In addition to the development, downtown parking should be created, as well as a commercial area being marketed to wineries.
"This creates a focal point for the wine industry," Clyne said. "Polk County is the second largest producer of grapes and vineyards. We're a bit of a secret."
Clyne said the hotel will provide upscale rooms and more amenities at a higher price point than anything that can currently be found in Polk County.
The development also will include extensions of trails through the apartments and along the shorefront, connecting Riverview Park to the Independence Civic Center.