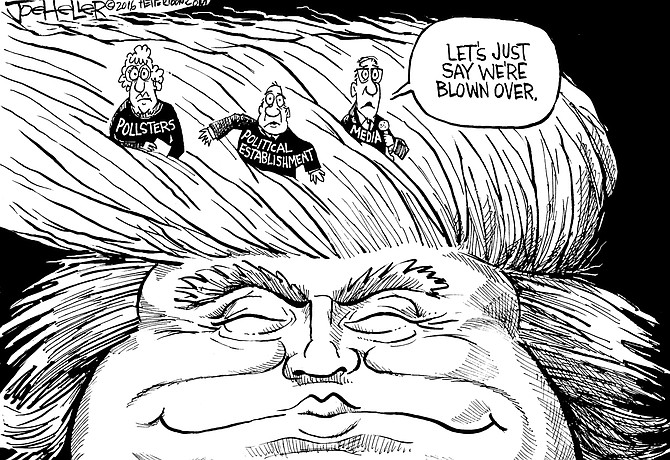 Voter vents over election calls, ads
Please get a clue. To all political parties and all special interest groups, I have a message. Send information in the mail about what is important to you, I will read it.
Spend millions on TV ads, I will watch it way too many times. Call me once, OK. Call me twice, you are getting annoying. Call me three times, you are done.
I will not vote for your candidate, measure, party, whatever. I keep a list, three times you are out.
Robocalls are especially bad, there is no one to yell at.
Oh, Mike Nearman deserves a special mention for being the worst violator of annoying, stupid phone calls.
Get a clue, folks, calling me dozens of times isn't going to make me like you more.
Mark Scott
Rickreall
First Glow Run smashing success
I would like to thank the City of Dallas for putting on the outstanding Glow Run 5K event held on Saturday evening, Oct. 29.
It was extremely well organized, and the weather was perfect.
Hundreds of people wearing orange shirts showed up with their bright smiles and very creative, glowing accessories to run and walk for Christmas Cheer.
Thanks also to the sponsors and the many volunteers who guided and cheered us along the route from start to finish.
We look forward to this event again next year.
Bev Shein
Jamie and Drew Stevenson,
Kelley Clark and Carol Dalton
Dallas
Brighten a family's Christmas season
The Dallas Adopt-A-Family, in partnership with the Salvation Army, serves Dallas and Perrydale families with Christmas toys and a meal for the holidays.
Businesses, churches, clubs, families and individuals adopt a family in need.
The committee is actively seeking groups that would be willing to help make sure that families in need have a meal, and the children have a gift to open on Christmas morning.
Families in need of help for Christmas can apply at the Academy Building, Suite 220 on Saturday from 2 to 4 p.m.
Maybe you belong to a golf group, coffee group, card group, bunco group that would like to adopt a family?
You can choose to adopt a small, medium or large family.
Donors get to shop for specific children, wrap the gifts, gather items for a Christmas dinner and bring them to us on Dec. 13.
Families pick up the items on Dec. 14.
We have 85 families adopted so far, but we anticipate a minimum of 240 families needing to be adopted.
Can you help?
Please call Melissa Baurer for more information 503-798-4876.
Please consider reaching out to give a special Christmas for a family in need. Our group also accepts donations of toys, teen gifts and money.
We have always found Dallas to be a very giving and caring community. Thanks for considering the Adopt-A-Family project, which has been helping families for Christmas for nearly 20 years.
Thank you.
Vickie and Richard Boer
Dallas Adopt-A-Family Committee
Dallas