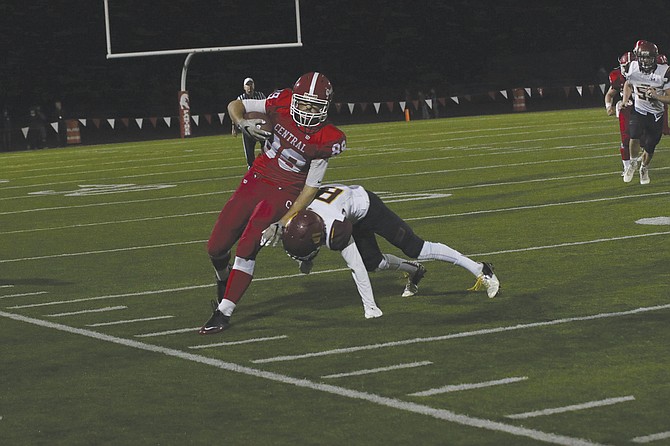 INDEPENDENCE — Leading by six with two minutes left, Central's football team faced a fourth-and-one on Friday night. Convert, and the Panthers would advance to the OSAA Class 5A state semifinals.
Fall short and Redmond would get one last chance to tie or win the game.
"We knew that if we get this, the game is over," quarterback Peter Mendazona said.
Central planned a power running play, but players signaled for a change.
"The signal from the kids to me was that the sneak would work," coach Shane Hedrick said. "Sometimes you get to this time of the year, and you trust your players and they said, 'coach, follow me.'"
Mendazona gained two yards on the rush — clinching Central's 42-36 win over No. 14 Redmond and earning a spot in the semifinals against No. 2 Wilson-ville Saturday at 11 a.m. at Hillsboro Stadium.
"I don't even know how to explain this feeling," receiver Andrew Barry said. "I've never been in this kind of situation where we've made it this far in the playoffs in any sport that I've played. I'm pumped and ready to go and get after it."
This is Central's first trip to the semifinals since moving to Class 5A — and it didn't come easy.
The Panthers' victory Friday was a back-and-forth battle featuring four ties.
Mendazona threw for 396 yards and five touchdowns and had one rushing touchdown.
Peter Mason hauled in six catches for 165 yards and two touchdowns, while Barry had four catches for 116 yards and two touchdowns. Running back AJ Morales rushed for 134 yards.
"I just tried to do what I could to put this team into a position to be successful," Barry said. "Being able to help the team in any way is pretty huge."
On defense, senior Sam Crow recorded eight tackles, and Marlon Tuipulotu had seven tackles and one sack.
Redmond found success on the ground, but Central got enough stops when it mattered.
"We have a lot of courage and heart on this team," Mendazona said. "Our defense played really clutch. They made some big plays along with our offense. I'm proud of our guys."
The win brings Central's players into uncharted territory — the state semifinals.
"It feels great," Tuipulotu said. "We've always made it to the quarterfinals but never passed it."
The Panthers face a different challenge against Wilsonville.
Quarterback Connor Neville leads an offense that averages 39 points per game and whereas Redmond boasted a great ground game, Wilsonville brings one of the state's best passing attacks.
"They have a Division 1 quarterback who committed to Washington State," Hedrick said. "They throw the ball really well and have scored huge amounts of points."
On defense, Wilsonville will bring an aggressive, opportunistic attitude, Hedrick said.
"Defensively, they play a little scattered," Hedrick said. "They take some risks and that can be difficult for an offense to deal with. We're going to have to slow down their passing attack. We have to win the turnover battle — that's going to be huge — and we have to move the ball like we have been the last couple of weeks."
The shift in focus presents a change in thinking on defense.
"It's going to be a real challenge for us," Hedrick said. "You go from not focusing as much on the passing game on defense and putting an extra defender on the defensive line to having to stop the pass. It's a real dilemma for us and it's going to be difficult."
The winner advances to the state championship game on Nov. 26 against the winner of No. 8 Dallas vs. No. 4 Lebanon.
"A couple years ago we played Wilsonville and they beat us," Mendazona said. "We want revenge. We know their quarterback is good. We know all that. We feel like we can get them, and we're going to go out there and give it our all."