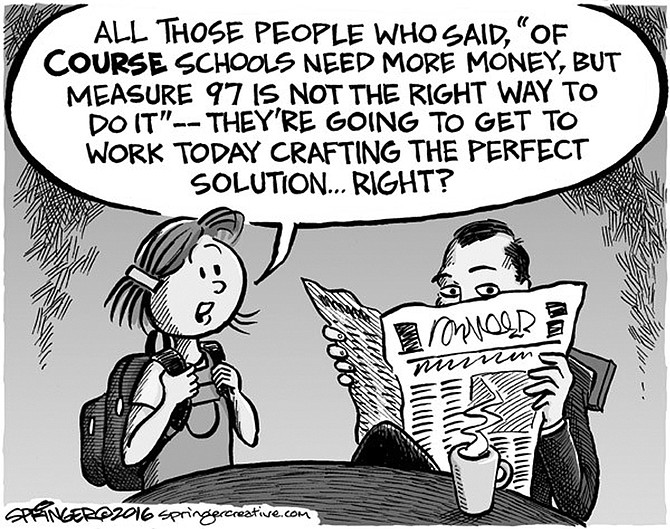 Oregon voters were clear: No new taxes for C-corporations on Oregon sales exceeding $25 million annually.
Measure 97 lost by large margins, 59 to 40 statewide, and with an even firmer "no" in Polk County — 64 to 35.
Proponents for the measure said it would help pay for pre-kindergarten through 12th grade education, improve senior services, and access to health care.
We think it was a last-ditch effort to save the state from its retiring employees.
Oregon's Public Employee Retirement System is due to take a large jump up as far as employer contributions go. That means local governments — cities, counties, schools, fire districts — will have to put more away for those who are retired or plan to retire.
And that means less money to spend on services, teachers, police, and programs.
With the failure of Measure 97, it will force everyone in the state — from newly elected Gov. Kate Brown, to the Legislature, to city councils, the county commissioners and school boards — to buckle down and take a serious look at what programs and agencies will get cut the most.
Sen. Brian Boquist said the state budget will take a $2 billion hit because of it.
That's billion, with a B.
We're not saying the voters should have passed Measure 97, but now that they haven't, everyone needs to be prepared for hard times to come.