MONMOUTH — It took until Dec. 31, 2015, for Western Oregon's women's basketball team to earn its second win last season.
The Wolves reached that mark after two games this season.

Western Oregon defeated San Francisco State 72-63 on Saturday and California State, East Bay 73-63 on Sunday — the first steps in a rebuilding process that players hope proves brighter days are ahead for the Wolves.
WOU hasn't won more than 10 games since the 2010-11 campaign, when the Wolves finished 11-16 overall. Western Oregon went 4-24 last season – but a mix of new faces and players stepping into expanded roles has players confident that it will improve significantly on that mark.
Senior guard Launia Davis has seen the change in attitude firsthand. Davis transferred from Walla Walla Community College prior to last season. She played 13 minutes per game as a junior, and averaged 4.0 points per game, but as the Wolves' losses mounted, so did doubt about her game.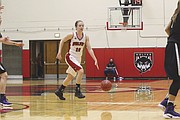 "It's hard to only have four wins in a whole season," Davis said. "For some of us, we came from winning programs whether at high school or a community college. The biggest thing is being able to bounce back and keep your focus knowing that the whole year was setting up what is to come."
Davis vowed to make the most of her senior campaign and worked on everything from her shot to her court vision. Davis is averaging 8.5 points per game and is tied for the team lead in assists.
"Launia is one of the hardest workers we have," coach Holli Howard-Carpenter said. "She put in a ton of time in the gym. She shoots almost daily. She's a more mature player, and she sees the floor better. She's more confident, and I think her teammates have more confidence in her. Last year, I counted on her 3-point shooting. Her defense has gotten so much better, and she can make huge plays for us with her court vision now. She worked her butt off."
The Wolves also hope several new players will have a positive impact.
Junior Shelby Snook is in her first year with WOU. She transferred from Lane Community College and was well aware of WOU's recent history — but she was sold on Howard-Carpenter's vision for the program.
"I could really see myself here," Snook said. "I'm from Oregon. I'm really close to my family, and I wanted to stay close to them."
The junior's ability to hit the long ball or drive inside with relative ease makes her a dangerous offensive threat, and it's showing. Snook is averaging 17 points per game while shooting 61.9 percent from the field.
"She makes us way more dynamic," Howard-Carpenter said. "She's the type of player who can score in bunches if we need her to, but she can also distribute the ball. She understands the flow of the game and does what the team needs."
The team's greatest strength could lie in its depth. Six different players scored in double figures over the first two games.

"That was key for us in the offseason," Howard-Carpenter said. "The returning players really worked on their offensive game, and the people we added, we had to add people who can score."
A year ago, the Wolves' offense struggled, averaging 52.1 points per game.

"Last year we had one main scorer, and if they shut her down, we were like, oh gosh, now one of us has to score," Davis said. "We weren't handling that pressure well."
WOU has scored 72 and 73 points in its first two games with several players lighting up the scoreboard.
"I think they are hungry and so competitive," Howard-Carpenter said. "This team is very unselfish. They just want to win. They don't care who scores as long as we get a good shot, and I think they have something to prove."
Western Oregon has long been an easy win for conference foes. The Wolves hope to show they won't be overlooked any longer.
"I think we're very positive and motivated to improve every day," Snook said. "We're ready to have a really good season, and a winning season, at that."