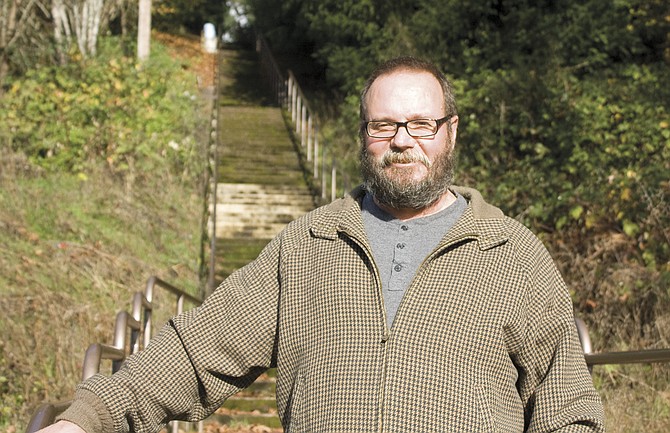 FALLS CITY — Terry Ungricht's routine begins with arriving at city hall in Falls City at 6 a.m.
"That gives me a couple of hours of work without disruption," he said. "If we have a water main break, I'm in the ditch and driving the dump truck. That's why I like to show up early — that gives me a couple of hours to work. Then you open your email or the phone starts ringing."
His official title with the city of Falls City is mayor.
It's safe to say that is an understatement of the responsibility he's taken as the city contends with limited funding. He is the city's mayor, the city manager, a public works assistant, volunteer organizer and grant writer.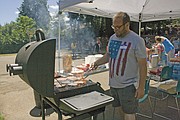 He does all of that with little background in public administration — he served as a city councilor for two years — and no financial compensation.
"Mayor Ungricht volunteered to serve as city manager so he could help remove roadblocks keeping Falls City from moving forward and help the city save money," said City Clerk Domenica Protheroe. "This is exactly what he has done."
By filling the role of city manager, which requires him to work about 50 hours per week, if not more, Ungricht is saving the city about $82,000.
His work on infrastructure improvements in town — water, sewer and streets — no doubt will save the city more money. Ungricht does it with the municipal equivalent of clipping coupons: Applying for grants and seeking partnerships with other cities or agencies.
A retired railroad conductor and lobbyist on behalf of his union, Ungricht said he's versed in "government speak" and another trick that has been useful.
"I know how to twist arms," he said, smiling.
Protheroe can tick off a list of the successful grants Ungricht has applied for or has assisted in applying for on behalf of the city in his first term. His first was a HEAL Cities grant used to repair and upgrade the 119 steps that connect downtown to the Falls City Elementary School neighborhood.
The city has received grants to pay for water treatment facility plans, an income study for households served by city sewer services, street paving, expanding Michael Harding Park, and one under consideration for sewer system upgrades.
Federal and state grants will pay for a replacement bridge on Mitchell Street crossing Dutch Creek which washed out in December 2015. Ungricht established a partnership with Polk County to manage the project.
Ungricht has plans for the city, in partnership with the county, to receive more grant money to pave streets in town. That way the city can use state grants to small cities to pave frequently used gravel roads.
"I have a lot of goals for the city, mainly infrastructural," Ungricht said. "My thing is to try to look 10 years out."
City Councilor Jenn Drill said his foresight is appreciated.
"I think he's made a huge impact, not just personally, but financially," she said. "He's able to look at things as a whole and not just his own agenda."
She added he's good at rallying people for a common cause.
"He brings unity to our community," she said. "It comes down to having a heart for the community."
Drill said she believes his vision for the town is on the right track.
"He wants to see Falls City at its best," she said.
Ungricht claims that he doesn't have enough time for the role of mayor in the traditional sense.
But Brian Dalton, the mayor of Dallas, said Ungricht has made an effort to meet with other mayors in the region and learn as much as he can.
Dalton said Ungricht's success in both manager and mayor roles is impressive.
"He's done a very good job for Falls City," Dalton said. "He's remarkably dutiful and he does it without complaining."
Ungricht, who just won a second term this month, said he "would like to retire again," or at least just serve as mayor. He has a plan to get there.
First, he would like to set the stage for some development in town, but not so much as to spoil Falls City small-town charm.
"I'm trying to set the road map for the next couple of decades," he said. "I think if they follow it, it's such a wonderful community, and I think it will be a thriving community."
Then, he wants to find another service-minded person to train to take over administrative duties.
This person wouldn't necessarily have a public administration degree, but the right mix of experience and willingness to learn.
"They could get a great career out of the city and I could help them succeed and be good for the community," he said. "That is what I would like to see."