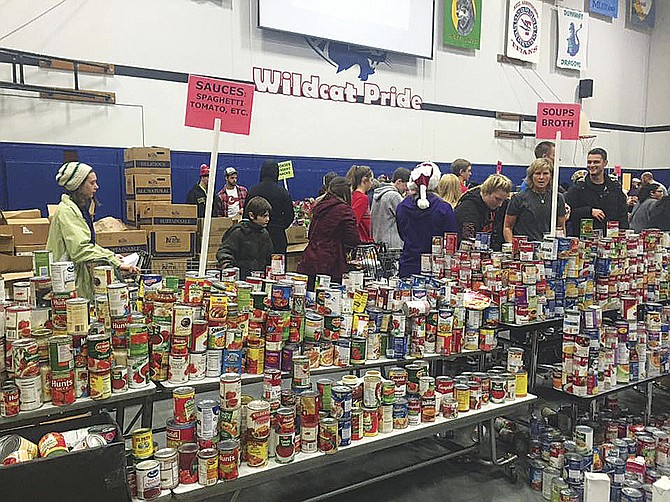 DALLAS — Two organizations serving those in need this Christmas — Dallas Christmas Cheer and Dallas Adopt-a-Family — are gearing up to spread some holiday joy and they need your help.
Dallas Christmas Cheer already is seeing strong support from various food drives in the area and will receive the proceeds from a new fundraiser, the Dallas Glow Run, early next month.
"It just continues to blow our minds," said Sue Lamb, Christmas Cheer's secretary and treasurer. "The program truly belongs to the community. I have never seen volunteers come out like this."
Christmas Cheer delivers food boxes on Christmas Eve, with volunteers showing up at LaCreole Middle School to pack boxes.
You don't have to wait that long to lend a hand, though. Food drives are underway at several local organizations and businesses.
You can help
Dallas Christmas Cheer
For locations of food drives in the area or to donate to the program, go to www.dallascc.org....
Volunteer on Christmas Eve at 6 a.m. at LaCreole Middle School, 700 SE LaCreole Drive, Dallas.
Dallas Adopt-a-Family
To adopt a family, contact Melissa Baurer at 503-798-4876.
For information about where to donate, go to Dallas Christmas Cheer's Facebook page.
The Dallas High School leadership class kicked off the drive by collecting 7,650 canned food items.
Lamb said Monday that about 100 families were signed up and she expects the organization will collect enough food to provide for many more.
"We would love to serve 300 families," she said.
Dallas Adopt-a-Family had signed up 143 families for assistance as of Monday. It is expecting about 250.
The program provides food and gifts for local families.
Melissa Baurer, director of social services at The Salvation Army, said 102 of those families have been adopted, so more families, businesses and organizations are needed to meet.
"We have a little bit of an increase this year, so we are trying to get the word out," she said.
Baurer said the Salvation Army wasn't expecting an increase this year because economic conditions have improved in the area.
After talking to families signing up, a pattern has emerged.
She said unemployment isn't the problem, but a shortage of rentals has driven rent costs skyward.
Even families with two incomes are struggling to cover basic expenses.
"What we are finding are a lot of the families are new," she said.
Families in the Dallas area can sign up for assistance at Family & Community Outreach office at the Academy Building in Dallas, 182 SW Academy St. Please bring photo ID, and proof of residence (utility bill).
For more information 503-623-9664.