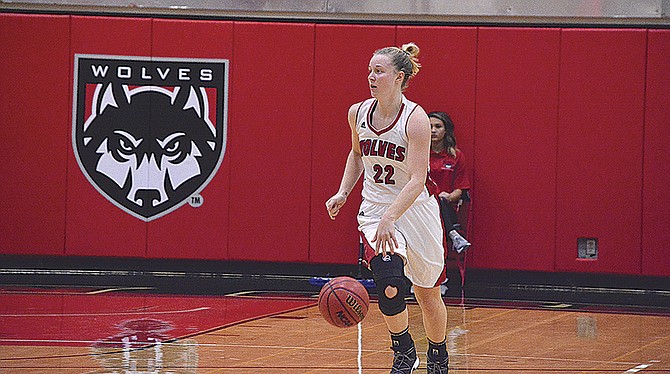 MONMOUTH — It's a change some might not even notice.
When Western Oregon sophomore Kaylie Boschma steps up for a jump shot, it may seem like a routine play, but for Boschma, it's a signal of a major evolution as a player.
As a freshman, Boschma appeared in 26 games. She was a solid distributor and could always drive hard to the hoop.
When it came to pulling up for a jump shot — that was another matter.
That's no longer the case this season.
"I feel I have improved the most in the confidence of my shot," Boschma said. "I feel comfortable with taking the shot and not driving every time or passing it up."
Boschma spent much of the offseason working with teammate Ali Nelke.
"Ali gave me someone to work out with to push ourselves," Boschma said. "Ali is just as hard, if not a harder worker, than me and she makes me want to be better and push myself."
Boschma is no longer a one-dimensional guard — and a more potent offensive weapon.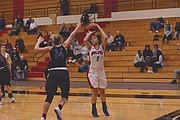 "I think I am more well-rounded," she said. "Instead of just being a driver, I'm harder to guard."
Boschma had 10 points and eight rebounds during a 59-50 win over Oregon Tech on Saturday — despite playing only 19 minutes because of early foul trouble — and is third in the team in points per game.
"We can always count on Kaylie to bring energy," WOU coach Holli Howard-Carpenter said. "She works extremely hard, and she pushes her teammates even harder. She wants to win, and she approaches each practice as an opportunity to get better."
Boschma isn't the only Wolf to show breakout potential.
Junior forward Jasmine Miller also scored 10 points against Oregon Tech and is second on the team in scoring, averaging 11.6 points per game.
"I think I play consistently aggressive and improved my leadership skills, as well," Miller said.
That aggressiveness is something the Wolves have been waiting to see. The seeds were planted a season ago.
"Last year was pretty tough, but I learned a lot," Miller said. "We learned how to play with heart because every game was tough, and we had to fight and not back down. I also learned the importance of leadership and being there for your teammates. Most importantly, I learned that you have to want to get better each and every day. That means every practice, lift and game, you have to put in the work to get where you want to be."
The work has paid off. She's shooting a team-high 61 percent from the field and leads the squad in rebounds (36).
"Jasmine has broken out of her shell and made great strides in being consistently aggressive," Howard-Carpenter said. "She's doing things this year I knew she could do, and she is playing with a ton of confidence."
Both players have taken it upon themselves to spark a change within the locker room.
"You have to be committed to help change the program, even if that means you might not see immediate success right now, but there will be change in the future and years to come, and I want to be able to say I was a part of the team that helped change the culture at Western Oregon," Miller said.
WOU has nearly as many wins (three) as all of last season (four) and Boschma and Miller have played a big role in the early success.
"Both Kaylie and Jasmine have grown a lot and have displayed the consistency we've been missing," Howard-Carpenter said.
Western Oregon begins Great Northwest Athletic Conference play Thursday at 7 p.m. against Seattle Pacific and Saturday at 7 p.m. against Saint Martin's, when WOU will find out just how improved the team is.
"We have to start competing harder and growing as a team," Howard-Carpenter said. "On the defensive end, we have to be more relentless and focus on executing our game plans. On offense, we are focusing communicating and making the easy play. We don't have to have super star performances. We have to make the easy pass. When we do that, we can be pretty tough to guard."