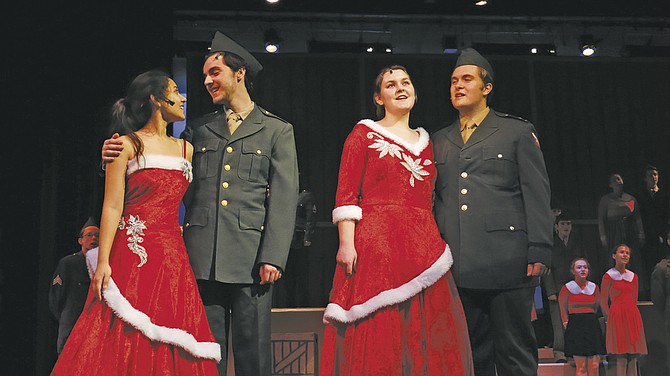 INDEPENDENCE — Christmas will rain from the sky at Central High School's performance of "White Christmas," opening on Thursday at 7 p.m.
"There are Christmas lights everywhere," said Wendy Boyack.
The musical has been a challenge for both Boyack and Jeff Witt, co-directors, for several reasons.
First and foremost: 327 costumes, 17 scenes with costume changes, 10 flying objects, a snow machine, and a large crew and cast.
"I've borrowed costumes from all over the place," Witt said. "I even found some of the Army uniforms in Texas at a surplus store."
White Christmas
What: Central High School presents, "White Christmas."
When: Thursday through Saturday, 7 p.m.; Dec. 7 through 10, 7 p.m. Dec. 10 includes a matinee at 2 p.m.
Where: Central High School Auditorium, 1530 Monmouth St., Independence.
Admission: General, $8; students with ID, $5; Saturday dinner theater, $20. Students on Dec. 7, $3.
Of note: Co-director Jeff Witt said tickets are selling quickly for this show. Get tickets online at centralperforming
<
p>arts.org
. Online ticket sales end four hours before the show begins. Tickets will be available at the door.
On Saturday, dinner will be served, so the price of admission is $20, and includes a reserved seat.
All the effort is worth bringing the Christmas spirit to Central's stage in the form of a beloved and iconic holiday musical.
For Conner Layton, who plays the lead character Bob, the play has been one of the most fun.
"But it's the most challenging," he said. "It's a lot of songs, and a lot more dancing than I usually do."
Layton, a Central senior, has participated in CHS theater for seven years, but has yet to have such a large role until now.
"One of the reasons it's so challenging is because it's a movie that everyone loves," he said. "I spent a lot more time rehearsing than I usually do."
Layton read the script while he traveled over the summer. He played the soundtrack on repeat — even while he slept.
"That helped me learn the songs faster," he said.
Witt wasn't worried about the music.
"Conner was made to sing 'White Christmas,'" Witt said. "He's a natural at it. He's a crooner."
The production fits the entire cast well, Witt said, something he consistently takes into consideration when choosing plays for the season.
Dylan Lewis, who plays Gen. Waverly, said he has always liked this show.
Lewis said his favorite song in the show — if he had to choose just one — is "We'll follow the old man," because it has a lot of "cool guy parts in that song."
While Lewis doesn't have a lot of songs, he does have fun yelling at people a lot, he said.
"He's kind of heated, but has a soft heart," Lewis said of his character.