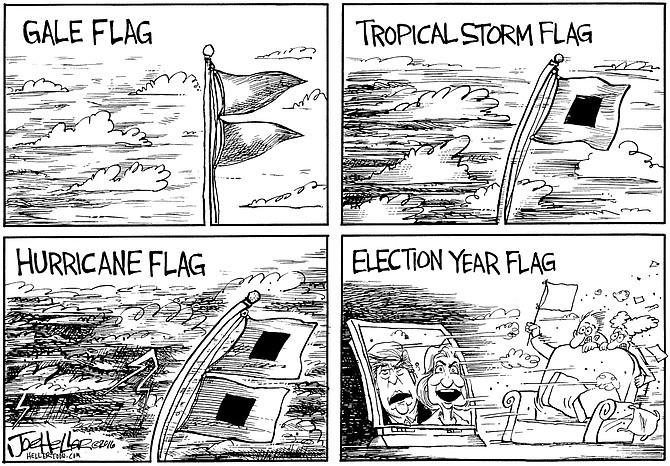 Retired sheriff supports Garton
I've worked in law enforcement in Polk County for 38 years. I have seen a lot of changes, good and bad, but most importantly I have seen all the improvements that have taken place since Mark Garton has been your sheriff. Mark has a tremendous amount of talent, respect, high ethical values and the experience to continue serving as your sheriff.
I humbly served as your sheriff for 16 years, and I am asking you to vote to elect Mark Garton, so he can continue serving as your Polk County Sheriff.
Bob Wolfe (retired sheriff)
Independence
Do Trump a favor: don't vote for him
If you like Donald Trump and plan on voting for him, then do the guy a favor and don't vote for him. Trump grew up and now lives in a bubble of wealth, lackeys, yes-men and beautiful women who all tell him how great he is.
Well, that myth is coming unraveled piece by piece due to the intense focus of public opinion and the free press.
All of his convoluted business deals, some maybe legal and others totally illegal, are coming to light, and it is not pretty. There will be no honeymoon for Trump if he is elected.
Ted Gaty
West Salem
Re-elect Gabliks to Dallas city council
We support Kelly Gabliks for re-election to the Dallas City Council.
She has lived in Dallas for 20 years and is the most qualified candidate.
Kelly believes the biggest issue facing the council is establishing a robust and diversified economy by supporting local businesses while encouraging new businesses to come to Dallas.
Serving on the Dallas City Council allows Kelly to give back to the community. Kelly's goal is to work to ensure our tax dollars are spent responsibly, laws passed are necessary and fair, and that Dallas continues to be a great place to live, work and play.
Ann and David Hurd
Dallas
Polk County needs Garton as sheriff
Polk County needs Sheriff Mark Garton.
Mark has diligently served the people of Polk County for over 19 years. Starting as a cadet allowed Mark to begin earning his way up through the ranks to becoming our sheriff in 2015.
He has a thorough understanding of how the Sheriff's Office operates, which is evident by what he has already accomplished in such a short time.
Thank you Mark for keeping the promises that were made during the public safety levy. It's refreshing to know that promises do mean something to him.
Please support Mark as our sheriff.
John Brown
West Salem
Gabliks dedicated to people of Dallas
It has been my privilege to serve on the Dallas City Council with Kelly since she was elected four years ago.
She carefully studies the issues, asks pertinent questions, listens to all relevant information and/or arguments and only then makes the choices she feels best serve the citizens of Dallas.
She is a dedicated team player on the council and servant of the people, and I feel she is an excellent example of what our citizens expect when they elect someone to represent them and our city.
Please join me in voting for Kelly Gabliks.
Kevin G. Marshall
Dallas
Garton shows good leadership
I met Sheriff Mark Garton at the Inter-Agency Reserve Academy fall of 2000.
He demonstrated leadership effective in helping us all graduate as reserve deputies.
That leadership ability has sustained the Polk County Sheriff's Office through recent difficult times.
His leadership has restored badly needed services.
As a mental health professional who has worked in law enforcement, I very much appreciate Sheriff Garton's foresight in establishing the Mobile Response Crisis Team.
Law enforcement can become more effective when paired with mental health to serve those vulnerable to being misunderstood during times of stress and crisis.

Vote Mark Garton for sheriff.
John W. Reed
Monmouth
Garton makes county fair safer
Annually, Polk County hosts its county fair, and one of the things that makes it great is that it feels safe.
Sheriff Garton has built a relationship with the fairgrounds to promote and improve that safe environment.
He works with fair staff to ensure the best emergency management plans and provides excellent coverage at the fair.
He has lived his whole life in Polk County, and for the last 19 years has earned his way up through the ranks in the jail and on patrol.
Sheriff Garton is the right person to keep our fair and our county safe.
Anna Scharf
Polk County Fair Board Chair
Perrydale
Morett has fight, ingenuity
This year I believe we have the opportunity to vote for a great candidate in Laura Morett, who is running for the HD20 State Legislature seat.
She is a person of impeccable character and unmatched drive.
She loves to win, and Laura wants to bring a win for us at the capitol.
She wants to represent us and not a special interest group.
Laura has the fight and ingenuity to take on the issues we, as a state, are facing. So this year when I'm marking my ballot, Laura Morett has my vote for the positive change we desperately need.
Marc Senyk
Independence
Put Thompson back in HD 23 Oregon's HD 23 should return Jim Thompson to the legislature. Jim demonstrates an ability to listen to constituents and respond to their concerns.
He's no flame-thrower; instead he has moderate views that indicate his willingness to work with all parties.
The only time I hear from Mike Nearman consists of one postcard right before the election.
He should be hosting an occasional forum to meet the constituents throughout the year.
Conversely, Jim seems very civic minded, and I see him at many events throughout the district.
Nearman never even responds to the press. Jim Thompson: HD 23's better choice.
Molly Mayhead
Monmouth
Elect Thompson to House District 23
We need Jim Thompson as our representative in Salem. Jim will work collaboratively with city governments, economic vitality groups, and honestly consider constituents' ideas and opinions. He wants to ensure he is working for and with people in the community.
During my time as mayor and in city council, I have not seen a State Representative work so little with communities or community organizations as Mike Nearman has.
However, Thompson has shown he will reach out to help solve individual and community needs.
If we do not have someone advocating for our local cities in Salem, who will?

Jim Fairchild
Dallas
DA endorses Garton for sheriff
As Polk County's District Attorney, I have had the privilege of working directly with Sheriff Mark Garton.
Under his leadership, 24-hour patrols have been restored, the Polk County Inter Agency Narcotics Team is working again, and vacant deputy positions are being filled.
He is a respected community leader and dedicated law enforcement officer. Please join me in voting for Mark Garton for Polk County Sheriff.
Aaron Felton
West Salem
Wilson deserves re-election
I am voting for LaVonne Wilson so that she may continue on the Dallas City Council.
LaVonne has proven to be a knowledgeable and caring person in helping to lead Dallas.
She has worked in the public sector for 29 years as business manager and deputy clerk.
LaVonne has given back to our community with her expertise and knowledge with various organizations.
She is always ready and willing to talk to residents about their concerns and issues.
Therefore, I ask you to vote for LaVonne Wilson for city council so that Dallas may continue to grow under her expert leadership.
Harriet Feder
Dallas
Garton has integrity
Sheriff Mark Garton is a man of his word.
He is a man with integrity.
He is a man who keeps his promises.
Please join me in voting to keep our sheriff, Polk County Sheriff Mark Garton. A man you can trust.
Jennifer Wheeler
Polk County Commissioner
Independence
Vote for Thompson, cooperation I will vote for Jim Thompson for representative in HD 23.
As a long-time Democrat, I've usually had to rely on Republicans to represent my interests in Salem.
Fortunately, I have had Lane Shetterly and Jim Thompson as my representative in the past, and knew that they would work with all who had the interests of all Oregonians at heart, and listen to my concerns, even though we did not always agree.
Please join me in voting for Jim Thompson to regain a voice in the legislature.
We need someone who will listen and say more than "no."
Dale Derouin
Dallas
Go on and leave the light off
As an amateur astronomer, I would like to thank folks who leave their lights off. It reduces light pollution.
Mike Neufeldt
Dallas
Whitlow provides strong leadership
I would like to strongly urge the citizens of Polk County to vote for Todd Whitlow for sheriff in the upcoming election.
I have known and worked with Todd Whitlow for the better part of 20 years, and recognize him as an individual of exceptional integrity, professional law enforcement skills, and leadership ability.
Todd Whitlow has the necessary education, training and experience to provide necessary change and proven leadership to Polk County Sheriff's Office.
As a retired law enforcement officer (39 years), I highly recommend Todd Whitlow for the position of Polk County Sheriff.
Michael Runyon
Dallas
Garton makes positive impact
Mark Garton knows the needs of Polk County.
His career has been spent serving the people of Polk County at the sheriff's office.
As our sheriff, Mark has accomplished critical goals: restoring 24-hour patrols, creating a citizen's advisory board, and, most recently, creating mental health crisis teams.
People experiencing a mental health crisis need intervention, support and services, not jail time.
These teams will have a positive impact for all of us.
Vote for Mark Garton.
He has proven his leadership ability.
Eileen Brown
West Salem