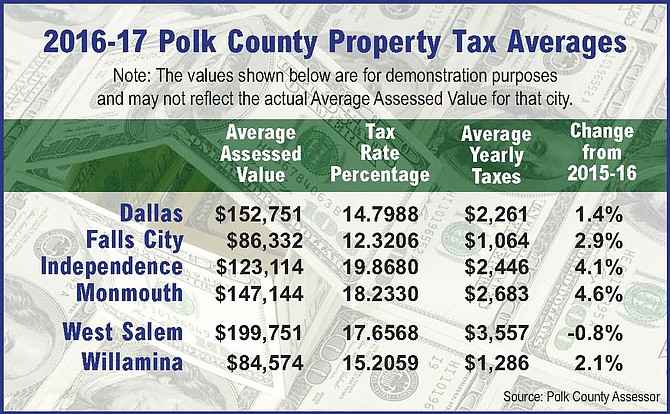 POLK COUNTY — Property tax bills will be coming your way soon, and most owners will see an increase in their taxes once statements arrive this month.
Polk County Assessor Doug Schmidt said the total amount of taxes, special assessments, fees and charges to be collected for all districts in Polk County is approximately $87.5 million for the 2016 tax year, an increase of 3.4 percent compared to the $84.5 million in 2015.
The primary contributing factors are the 3 percent increase allowed under Measure 50, and collecting for bond repayment, and new value to properties added through construction, Schmidt said.
Property tax statements will be mailed by Oct. 25 and taxes are due Nov. 15.
Schmidt said the real market value — the amount the assessor believes a property would sell for if placed on the market on Jan. 1 — increased in the county by 7 percent to $8.12 billion. Assessed value (the value property taxes are based on) grew by approximately 4.9 percent to $5.62 billion.
Schmidt noted that while assessed value may have increased by 3 percent or more, property taxes may have changed by a different percentage.
In Dallas, a city bond repayment decreased by 15 cents per $1,000 of assessed value, and a Dallas School District bond decreased by 6 cents per $1,000. In West Salem, a Salem-Keizer Schools bond decreased by 65 cents per $1,000.
The opposite happened in Monmouth and Independence, where taxes may have grown more than the increase in assessed value because Central School District's bond repayment grew by 35 cents per $1,000.
The cities of Dallas, Independence, Monmouth and Salem have active urban renewal districts, which will generate approximately $2.89 million for those districts this year.
In Dallas, the URD will receive $158,162; Independence will receive $500,889; Monmouth will receive $273,310; and the remainder, $1.95 million, will go to Salem.
Restrictions under Measure 50, which limits property taxes to $10 per $1,000 of real market value, caused the loss of $417,403 in collections for districts in the county.
Schmidt encourages people to review their tax statements for accuracy of information. If changes are needed, call the assessor's office at 503-623-8391.
If you wish to have your value reviewed, that can be done free of charge. Those still not agreeing with their real market value can file for an appeal. Instructions for filing an appeal are on the back of tax statements.
If you have questions about where or how to pay your taxes, call the Tax Office at 503-623-9264.