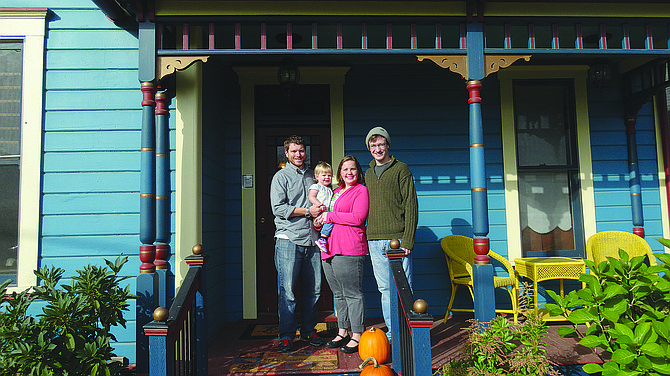 MONMOUTH — Emily McNulty has fond memories of working at a bed and breakfast on Prince of Wales Island in Alaska, where she grew up.
"For some reason, I just could not let this idea of someday owning a bed and breakfast go," she said. "It just wouldn't leave, so it's been percolating a long time."
Be our guest
What: MaMere's Guest House.
Where: 212 Knox St. N., Monmouth.
Of note: Mark your calendar for 2 to 6 p.m. on Sunday to stop in and take a tour of the historic building. The Howell House was built as a boarding home for women attending Western Oregon University. This year marks the home's 125th birthday. Now, the guest house can be rented by the room or in its entirety. An apartment in the Carriage House also may be rented. Rates start at $89 a night. Left Coast Cellars will be on site pouring tastings.
For more information: mameresbnb.com.
When she and her husband, Mike, moved to Monmouth, she reached out to Terri Gregory, who owned MaMere's Bed and Breakfast.
"I wanted to learn more about the business," Emily said. "She let me come shadow her and work with her for a little bit. It just seemed to keep reiterating to me that this was something I needed and wanted to do."
Once her daughter, Olivia, was born, it sealed Emily's drive, even though it meant quitting a good job to pursue her dreams.
With the help of her parents, Bill and Sarah Altlund, MaMere's was purchased from Gregory. Emily is the on-site manager of this family business.
MaMere's — historically the Howell House — intrigued Bill, he said.
"I liked the Monmouth community: it's size and location within the state, as well as the community's make-up," he said. "I liked the proximity of the business location to the unique downtown area, just a block away, the Western Oregon University campus just a block away, the city park just across the street, the historical significance of the house itself, and the friendliness of the folks in the Monmouth-Independence area."
Beyond the town, the region caught his attention, with wineries, the river, scenic backroads, mountains, the coast and Portland all within easy driving distance.
"In my experience, there are very few locations within the U.S. which have all of these things going for them — and I have been across America multiple times on motorcycle trips," Bill said. "I have visited many other small communities in many other areas of our country."
The location is something Emily hopes to capitalize on.
"We've talked about moving toward a vineyard theme, but we're taking things slow and trying not to rush into it too fast," she said. "That's the other great thing about it being a family venture — good and bad — everybody has ideas; everybody has opinions — but lots of good ones, so we're trying different things."
Emily's sister Katie helped ink the deal with Gregory and worked on details of the business plan. Emily's brother Eli will work as the part-time maintenance man, living on site at the guesthouse. Younger sister Hannah will likely work during the summers, Emily said.
"It was my dream, and my parents really supported that, but now it's turned into this family accomplishment," she said.
The family working together in a business is kind of a tradition, built by Bill and Sarah's small pharmacy.
"Being an entrepreneur is definitely in our blood," Emily said. "We all worked in some way at that pharmacy. We had positive experiences doing that, so it's exciting to see where it might go here."
The McNultys and Altlunds see potential in MaMere's to fill a hole for the community — with cozy gathering spots for meetings, small parties for business or family, or music — or even a home-away-from-home for locals.
"That's the vibe we're going for," Emily said. "You can just relax and hang out if you want. Just really make it what you need it to be as the visitor."