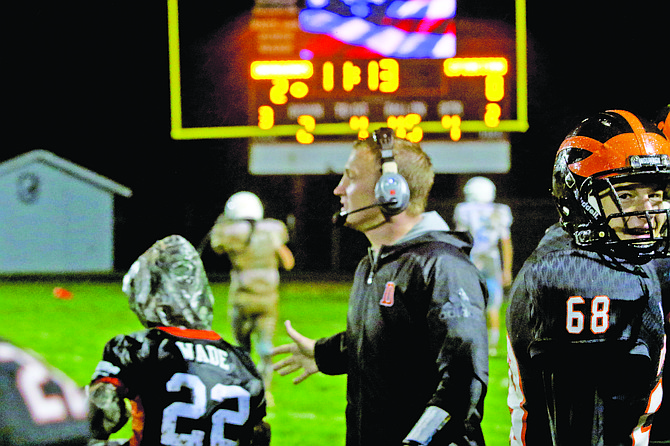 Veterans services college fair set

Chemeketa Community College, 4000 Lancaster Dr. NE, Salem, will host representatives from more than 20 veterans and community organizations and nearly 20 colleges and universities Thursday from 10 a.m. to 2 p.m. for a Veterans services college fair.
The fair will be held at the Student Center in Building 2 on the Salem campus.
Veterans not currently in college can learn about the steps needed to get started. Veterans who are enrolled in college can learn about services offered by local nonprofits offer.
Non-veterans are also invited to receive information about various colleges and services available to them.
There is no cost to attend.
For more information: Greg Harris, 503-584-7153.
MI Rotary Club offering rum cakes
The Monmouth-Independence Rotary Club is selling rum cakes.
There are three flavors available: original, lemon and chocolate fudge. Four-inch Bundt cakes cost $10 or 10 for $90. Nine-inch cakes are available, come in a tin that can be decorated and cost $35.
Money raised from the sale go toward the club's youth exchange program. Currently, Marie Burges, a junior at Central High School, is attending school in Sapporo, Japan, while Lari Lopez-Tress, from Vera Cruz, Mexico, is being hosted by the Rotary Club while attending CHS.
Orders must be received by Nov. 9.
Contact Al Oppliger, 503-838-1353, Paul Doellinger, 503-838-4884, or any Monmouth-Independence Rotarian to place your order.
Cakes will be available starting Nov. 17.
Reservations open for EAA event
EAA Chapter 292 will hold a free event for children ages 13 through high school seniors on Saturday and Sunday at Independence State Airport, 4803 Airport Road.
The event will run from 8:30 a.m. to 4 p.m. each day and is geared toward those interested in learning more about sport aviation.
Topics will include aerodynamics and forces of flight demonstrated in a wind tunnel, navigation using charts and electronic systems, how to build an airplane, and a 20-minute plane ride to demonstrate things learned in the classes.
Reservations are due by Wednesday (today). Participants are capped at 20.
Snacks and beverages will be provided, but participants will need to bring a sack lunch.
For more information: Michael Ryer, 503-364-3619, email to starkandryer@outlook.com.
Pink Tea fundraiser returns Monday
The Pink House Café, 242 D St., Independence, will host Pink Tea on Monday from 7 to 9 p.m. Tickets for the tea cost $10 and seating is limited to 50.
The Pink Tea event is designed to raise awareness for the need for early detection of breast, ovarian and other women's cancers and raise money for American Cancer Society research.
In 2015, Pink Tea and the accompanying silent auction raised nearly $900.
To reserve seating: Jolene Hall, 503-838-2851 or email to pearlygirly52@gmail.com.
Montessori school auction scheduled

The Grow with Montessori Auction will be held Saturday from 6 to 9 p.m. at the Independence Civic Center, 555 Main St., Independence.
Tickets cost $15 presale and $20 at the door.
The evening will include appetizers and a dessert in conjunction with a silent and live auction.
Each ticket also includes two drinks.
All proceeds will benefit the expansion of the Monmouth Montessori School.
Auction items include Oregon State vs. Washington State football tickets, introductory flying lesson, a two-night stay in Sunriver, and large wood art.
Tickets can be purchased at Monmouth Fitness Club, Superior Cuts, Arena Sports Bar and Grill and Monmouth Montessori School or by emailing mmfa.board @gmail.com.

Titus III House to hold Turkey Shoot
The Titus III House Turkey Shoot Fundraiser returns Saturday from 9 a.m. to 4 p.m. at the Independence Elk's Gun Club, 8730 Hoffman Road.
Must be 18 or older to attend unless accompanied by a parent.
The fundraiser will feature meat and ammo prizes, and raffle prizes including shot guns, hunting trips and fishing trips. Shots will be available for $5.
The Titus III House provides a home for women recently released from incarceration.
For more information: Jody McGowan, 503-932-2167.
Senior center hosts soup and pie event
Monmouth Senior Center, 180 Warren St. S., will host a soup and pie event Thursday from 11:30 a.m. to 1:30 p.m. The event will give the public a chance to check out expansion projects at the center.
Market to display pumpkin sculpture
Independence Riverview Market will host a pumpkin sculpture exhibit Saturday from 9 a.m. to 2 p.m. The public is invited to bring their pumpkin creations.
For more information: Sue Barker, 503-837-0045 or email to IndependenceRiverviewMarket@gmail.com.
After-hours mixer set for Thursday
The Monmouth-Independence Chamber of Commerce will host its October After-hours mixer Thursday from 5:30 to 7 p.m. at Monmouth Hardware, 401 Main St. E., Monmouth.
Light refreshments will be served. The mixer provides a networking opportunity and is open to MI chamber members and guests.
Registration is preferred and can be completed at www.micc-or.org.
Participants are encouraged to bring a small giveaway valued at $10 or less to promote your business or organization.
For more information: 503-838-4268.
Naomi invites all to luncheon
Naomi Chapter No. 22 Order of Eastern Star invites the community for lunch on Friday, Oct. 28, from 11 a.m. to 1 p.m. The lunch includes your choice of chicken noodle or vegetable beef soup, salad and a piece of pie for $7.
Lunch will be served at the Dallas United Methodist Church, 565 SE LaCreole Drive. Tickets will be available at the door.
Proceeds help support projects for the Dallas chapter.
For information contact: Jolene, 503-623-8442.
Meet and greet set for Valladares
Three Legged Dog, 250 S. Main St., Independence, will host a meet and greet for Erubiel Valladares Wednesday (today) at 5:30 p.m. Valladares is a community liaison for the city of Independence.
City staff will also be in attendance.
Dallas library to host coloring night
Dallas Public Library, 950 Main St., will host Adult Coloring Night: Coloring, Conversation, Cookies, Thursday from 5 to 7 p.m.
Light refreshments will be served. Adults may bring their own supplies or use supplies provided by the library.
Coloring nights will continue on the third Thursday of the month through May.
Candidates' forum Thursday in Dallas
The Dallas Area Chamber of Commerce will host a candidates' forum for city council candidates Thursday from 7 to 8 p.m. at Dallas Civic Center, 945 SE Jefferson St.
Invited candidates are LaVonne Wilson, Kelly Gabliks, Ken Woods Jr., Paul Trahan, Marsha Heeter, Jennie Rummell and Terry Crawford.
There is no cost to attend.