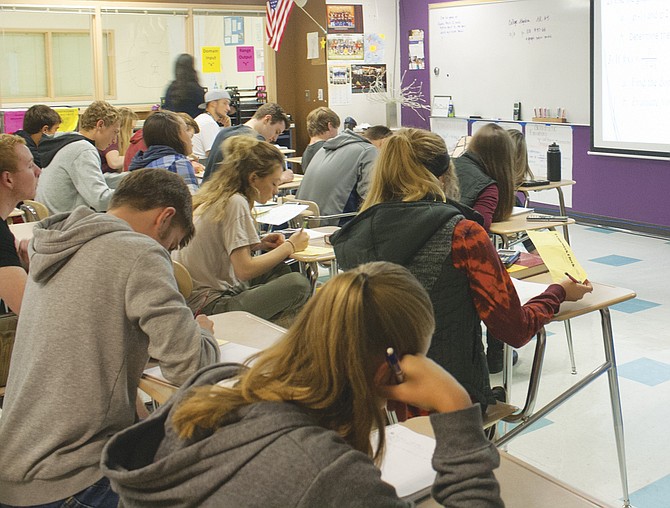 POLK COUNTY — Central, Falls City and Perrydale schools are all seeing enrollment growth, while Dallas is in what could be a pattern of decline in student numbers.
Central is up 53 students from last year, bringing the total enrolled to 3,321. Of those, 1,002 are enrolled at Central High School. Talmadge Middle School is at 786 students, while the district's elementary schools have 1,533 students enrolled.
In keeping with a trend seen in the district in recent years, most of the growth is happening at the secondary level, said Cec Koontz, the district's business manager.
Meanwhile Dallas is moving in the opposite direction. Enrollment in October was 3,294, including charter schools Luckiamute Valley Charter School and Dallas Community School, which have enrollments of 196 and 156, respectfully.
Dallas High School is at 971, while Morrison Campus Alternate School has 51 students. LaCreole Middle School enrollment is at 656 and the three elementary schools have 1,243 students combined. Polk Adolescent Day Treatment Center has 17 students in grades six through 11.
"We are down about 80 students from last year at the same time," said Tami Montague, the district's fiscal services director. "We were expecting the drop because of the loss of the Extended Campus (fifth-year program), so we are not making any significant change to this year's budget."
Extended Campus has been replaced, mostly, by Oregon Promise, which offers community college grants to students who maintain at least a 2.5 GPA during high school. Dallas still offers the Post-Grad Scholars program for students who don't meet the GPA standard. It had four students enrolled.
Growth or decline in enrollment has an impact on state funding, which is paid to districts based on student population. That means Dallas will face a drop in funding in 2017-18 of about $550,000 if enrollment stays the same or falls further, Montague said at a school board meeting earlier this month.
That is combined with increased costs associated with Oregon Public Employees Retirement System rate increases, estimated to be about $660,000.
Montague that could mean the district could have to bridge a $1.2 million gap in 2017-18 if nothing changes.
With 318 students, Perrydale is up slightly from last year. That breaks down to 92 at the high school, 74 in middle school and 152 in elementary. Superintendent Eric Milburn said there were no significant changes, except for in one classroom.
"We do have quite a large kindergarten class (27) due to late registrants and move-ins after school had started," he said.
Falls City has experience a pattern of growth in the last three years, jumping from 139 students in the 2014-15 school year to 186 enrolled this year. Falls City Elementary has 126 students, while Falls City High School has 60.
The growth has forced the district to separate its traditional seventh- and eighth-grade blended class into two classes, and if the trend continues, the same will happen in the first- and second-grade class.
That class now has 27 students. and the district had to hire an educational assistant to help in that room, said Superintendent Jack Thompson.
"This has caused some growing pains, but in a positive way," Thompson said.