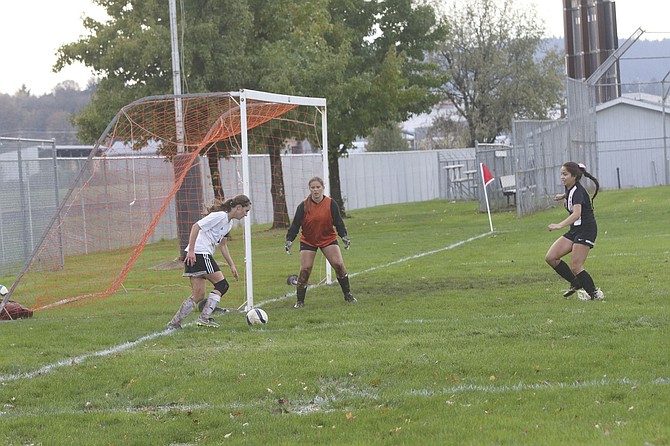 DALLAS — Since a 7-0 win over Redmond to open the season, Dallas' girls soccer team had gone 0-9.
Against Central and Woodburn, the Dragons roared back to life.
Dallas defeated the Panthers 7-0 on Oct. 18 and Woodburn 2-1 on Thursday — clinching one of the Mid-Willamette Conference's spots in the state play-in round.
"I think (Oct. 18) was the most fun any of us have had on this field in the last four years," senior Jenifer Webb said.
The Dragons (3-9 overall, 2-4 MWC) poured it on against Central on senior day.
Webb recorded a hat trick in the first half, helping pace Dallas to a 5-0 lead.
"It feels really awesome," Webb said. "It makes me want to go out there and get some more goals and assists for my team."
Seniors Stefani Tallon and Kaja Elgaen scored two goals each.
"The girls have really started playing a lot better together the last four or five matches," coach Ron Brooks said. "... When I took over, there was a lot of blaming people when things weren't going right. Now they are a lot more supportive. Family has been their rallying cry. We're finally getting to the point where they feel that way and not just saying it."
Dallas played South Albany Tuesday after press time.
The winner will clinch fifth place in the MWC and face the Midwestern League's fourth-place team in the play-in round.
The loser finishes in sixth place and will take on the Midwestern League's third-place team in the play-in round.
Play-in matches will take place on or before Saturday.
The Dragons will spend some of the week practicing on turf, in case they face an opponent with a turf field.

Dallas should receive a boost with Olivia Dalke, Katie Senger and Kloe Totten, all starters, set to return from injuries prior to the play-in round.
The first round of the state playoffs begins on Tuesday.
Boys soccer: Dallas' boys soccer team fell to Central 3-1 on Oct. 18 before losing to Woodburn 10-0 on Thursday. The Dragons (1-11-1 overall, 0-5-1 MWC) played South Albany Tuesday after press time in the team's final match of the season.