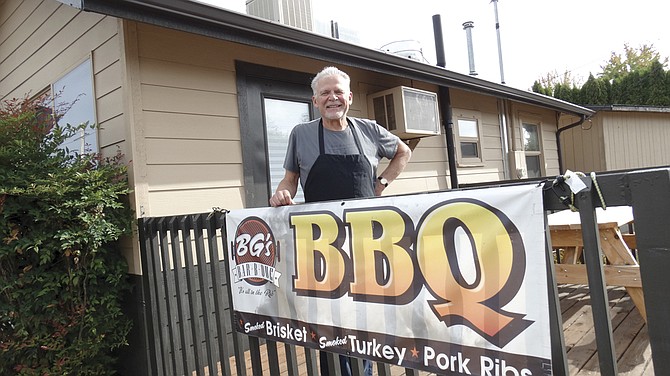 MONMOUTH — Stepping into BG's Bar-B-Que can be dangerous to your stomach, causing cravings for smoked goodness served with homemade sides from cheesy taters to coleslaw.
Bill Gordon, owner and chef, makes food from high-quality cuts of meat — beef, turkey, pork and locally sourced Italian sausages.
The menu is simple, with plates, sandwiches and platter options. Platters serve two or three hungry diners.
"I have a fairly sharply focused menu," Gordon said. "I do a few things, and do them well."
Give it a try
What: BG's Bar-B-Que.
Where: 189 Pacific Highway S. (99W), Monmouth.
When: Tuesday through Saturday, 11 a.m. to 2 p.m. and 4:30 to 8 p.m. for dinner.
Of note: Gordon also offers catering services for small or large parties, as well as specials in his restaurant. His sister Marge Bauer is Gordon's business partner.
He arrives three hours early to get his slow-smoked brisket and pulled pork cooked to perfection.
"With barbecue, you have to prepare it first and have it ready as quick food — not fast food, but quick food," Gordon said. "So people can pop in, grab something and take it back home, take it to the office and eat it there, or, if they're inclined to sit here — even though we don't have much seating — and enjoy a meal. It's comfort food, basically."
Gordon prepares all his meats with a rub, which he says is essential to bringing out the flavor.
"You can flavor meat with a rub, slow cook it and let that rub soak in, and that's basically all you need," he said. "You don't need any sauce when you're ready to eat this. Now if you want to add some sauce, that's fine, but what I'm going to do is serve it to you basically naked."
Gordon won't be offended if diners smother their dishes in sauce — everyone has different palates — but believes sauce can mask the taste of the meats.
While barbecue isn't something necessarily considered a regular part of a healthy diet, Gordon's variety isn't too bad, he said, in part because he uses high-quality meats and rubs, avoiding the sugars in barbecue sauce.
"It's all muscle meat, nothing processed," he said. "Even with my sausages. They're made in Oregon. They're nitrate free; they're gluten free. I like to eat quality food, and that's what I'm going to serve, too."
Gordon didn't expect to get into the restaurant business. His first career was as an insurance agent.
"I did it for 20 years," he said. "I was fairly good at it, but the industry changed a bit. My dad was always in the restaurant business, so we grew up in it and around it, so we knew enough to stay away from it."
And yet, here he is, opening his own restaurant.
"I do love to cook," Gordon said. "I do love pleasing people with my food. I have a passion for doing this."
His first foray into barbecue came from a recipe for country ribs.
"Country ribs are not well-known around here," Gordon said, originally from Kansas. "When we say ribs, they're thinking bone-in ribs. The country ribs are pork loin ribs, just all meat — and they're real good cuts of meat."
He began using high-quality Dutch ovens with his rubs and perfected his country ribs, which are on the menu at BG's Bar-B-Que.
Monmouth was the perfect home for his business, where he could fill the desires for barbecue in a smaller market.