FALLS CITY — A Falls City woman was arrested on multiple charges following a Saturday afternoon accident on Teal Creek Road near Falls City.
Brenda Jones, 53, was charged with four counts each of fourth-degree assault and reckless endangering and one count of reckless driving in the accident that injured four people, said Polk County Sheriff Mark Garton.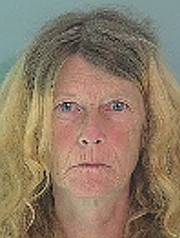 Garton said Jones and her passengers loaded into a pickup to drive to a nearby creek where they said they were going to spend time mourning Fisher Mattix-Hatch, 17, of Falls City, who died that day of an apparent medical issue. Garton said some of the passengers — three of them minors — were riding in the bed of the truck when the accident happened.
"She lost control and hit a ditch and the truck rolled," Garton said.
He said the worst injury appeared to be a broken arm.
"The rest were just cuts and scratches," he said.
Jones was taken to Polk County Jail where she was being held on $60,000 bail as of Tuesday morning.