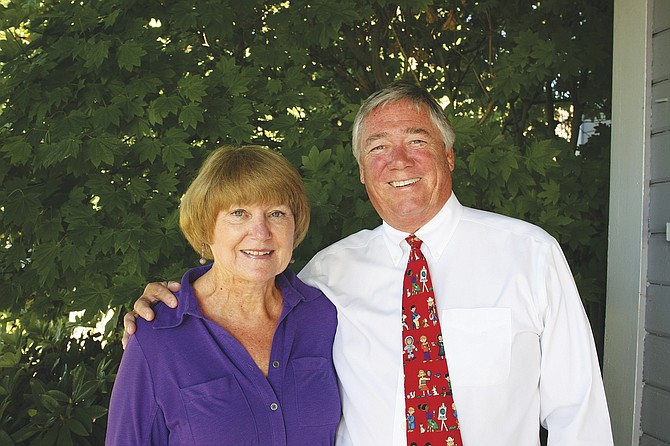 DALLAS — Friends have been telling Chris Lillegard that retirement will grow on him.
The longtime Dallas attorney isn't buying it yet.
"Everybody says I'm not going to miss getting up and going to work, but it just sounds a little bit weird to me right now," he said.
A good send off
What: Open house retirement gathering for Dallas attorney Chris Lillegard.
When: Sept. 15 from 4 to 7 p.m.
Where: 236 SW Mill St., Dallas.
For more information: 503-623-6676.
On Sept. 25, Lillegard will have been working for 40 years. He retires at the end of this month, except for a few projects he's working to finish around the end of the year.
That may take some adjustment, so it's a good thing Lillegard plans to stay busy.
His primary home is in Bend, where there's a bevy of outdoor activities to keep him occupied. Also, he and his wife, Marji, retired from a career at Microsoft, have eight grandchildren to spoil.
"That's plenty to keep you busy," Lillegard said with a smile and chuckle.
Lillegard spent his entire career in Dallas, saying he never had the desire to leave "to go to the big city."
"It's a great place for children to grow up," he said, referring to his four children, Nathan, Sarah, Susie and Carissa. "I like that independence I've had running my own practice. I like the friendships I've built with the people at the (Polk County) Courthouse and people I work with."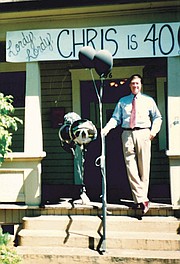 For all his love of being a small-town lawyer, Lillegard hadn't planned on going to law school until after taking a friend's advice.
"I didn't have a clue in college, and a friend suggested I take the LSAT (Law School Admissions Test). I did that and did real well on it," he said. "I didn't have anything else in mind. I was working in the woods logging in the summertime. I knew I didn't want to do that full time."
Lillegard began his career in 1975 as a law clerk in the in the firm Hayter, Shetterly, Noble & Weiser before earning his law degree in 1976 from Willamette University, according a 1996 Itemizer-Observer story marking his 20th anniversary.
Coincidently, he met a person who would become a key staff member, Linda Baker — his "work wife" — while at the Shetterly firm.
The pair will make their career exit together, Baker retiring after more than 29 years of working as a law clerk for Lillegard.
"I always figured when Linda wanted to retire, I would retire," Lillegard said. "I don't know what I would do without her."
Baker speaks of Lillegard in similar terms.
"I spent as much time with Chris some days as I have with my own husband," Baker said.
She noted, in spite of some long days, Lillegard was more than generous with time off for family events.
"Twenty-nine years is a long time. You would be amazed how fast it went by," she said. "It's a great place to work … it allowed you to have a family and work."
Unlike Lillegard, Baker will have no trouble adjusting to a retired life schedule.
"I don't care if I ever set my alarm again," Baker said. "That's the first thing I'm going to stop doing."
During his career, Lillegard has worked with recently retired attorney Doug Berg; Monte Campbell, the presiding judge in Polk County; and retired judge Charles Luukinen.
His colleagues or their titles may have changed in the 40 years he's practiced law, but one thing hasn't: the oddity of human behavior.
"Every time you think we've seen it all, we get surprised," he said. "What people do to themselves or each other is pretty amazing."
Lillegard's firm was the first to establish an indigent defense contract in Polk County in 1984, a role the firm still helps fill.
He's been part of the defense of nine people charged with murder, including most recently a co-defender for Cindy Beck, who was convicted for her involvement in a double homicide in Dallas in 2011.
In his philosophy, the job of the defense attorney isn't taking every case to trial, but fulfilling each client's right to a full defense and making sure they aren't convicted of more than want they actually did.
"Most of what you end up doing is managing the result for the person," he said. "What we are taught to do is give everybody the best defense, and the best defense isn't always getting them completely off of everything."
He's also been counsel on a few intense domestic relations cases.
"I can tell you I was never frightened during any of these nasty criminal cases, but I've been frightened a few times in the divorce cases," he said. "People get pretty crazy."
He noted those tend to be the exception and not the rule, and many times he and his staff have the privilege of seeing a client's life change for the better.
"You also become a counselor and a shoulder, especially when people are going through hard times," Baker said. "Some of our clients go back years and years."
Occasionally, some of those clients come back to thank Lillegard and his team.
"We've helped a lot of people work their way through the system, so to speak, and come out on the other side as good healthy, productive human beings," he said.