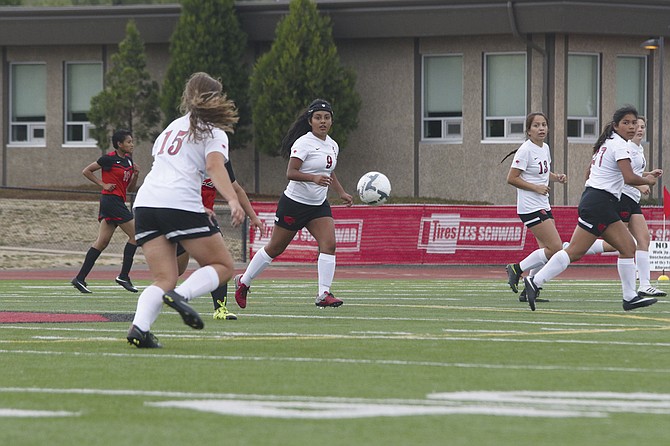 INDEPENDENCE — For Central's girls soccer team, a tie never felt so good.
The Panthers finished 0-12-0 in 2015. Trailing North Salem 1-0 midway through the second half on Thursday, Central was looking for a spark.
It found it when senior Abigail Cisneros scored on a header to tie the game at 1.
"I think once they saw that they put one in the back of the net, they got that confidence," coach Veronica Lepe said. "They got that burst of energy and the fire of wanting to get more goals. They started communicating a lot better as a team."
The Panthers had a chance to take a lead late in the second half, but saw a shot hit the cross bar. Although missing a chance on earning the victory, a tie lifted their spirits.
"It really is big," senior Alyssa Orozco said. "Last year, it was sad everywhere because we didn't win any games. Knowing that we at least tied the first game, it meant a lot for us."
After a frustrating first half, the Panthers came out fired up in the second, with crisp passes and an aggressiveness that Lepe hopes Central will build on.

"This gives us hope," Lepe said. "It lets us know that we can do this. We just have to work hard and play as a team. I think that was lacking last year. We had a lot of good individuals, but not a solid team. We're focused on that this year."
The Panthers, which played McNary Tuesday after press time, host North Marion on Sept. 13 at 6 p.m.
After earning the tie to open the season, Central now looks to get in the win column and continuing to build momentum.
"We have to keep playing together, communicating and making good passes," senior Ana Becerra said. "We can't let our guard down."
Central went through the entire 2015 season without a win or a tie.
Now that the Panthers have tasted a bit of success, Lepe said Central is on the prowl for more.
"We want to start out with how they played the last 20 minutes," Lepe said. "They need that fire of wanting to compete and win right off the bat. They shouldn't need a goal to know they can do this, because they have the skills."