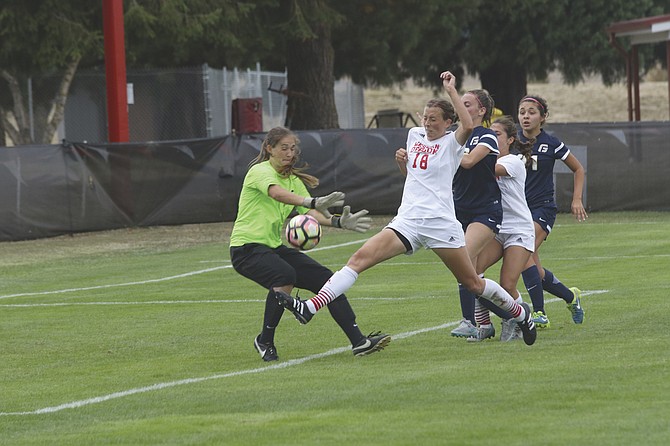 SACRAMENTO, Calif. — Western Oregon's football team opened the 2016 season with a big statement. The Wolves defeated Division I Sacramento State 38-30 on Saturday.
Junior receiver Paul Revis gained 175 all-purpose yards with two touchdowns, while linebackers Bo Highburger and Tolu Naea combined for 26 tackles.
Revis gave WOU a 14-0 lead in the first after scoring on a 19-yard pass and a 74-yard punt return.
WOU led 21-16 at the half. Sacramento State pulled to within 24-22 with 14:03 left in the fourth, but a 36-yard touchdown pass from Nick Duckworth to Wesley Gray and a 30-yard run from Torreahno Sweet put the Wolves up 38-22 with five minutes to play.
Sacramento State scored once more, but WOU held on for the win.

Senior lineman Jeremy Moore had two sacks to help lead the defense.
Western Oregon hosts Central Washington Saturday at 1 p.m.
SOCCER DEFEATS GEORGE FOX: Western Oregon's women's soccer team defeated George Fox 1-0 on Thursday in the Wolves' season-opener.
Taylor Higa broke a 0-0 tie with the game winner in the 51st minute.
Goalkeeper Caitlyn Kastelic made seven saves. True freshman Kastelic's best save came in the 81st minute, stopping a shot from 15-yards out in a one-on-one scenario.
The Wolves hit the road to face the Academy of Art on Wednesday (today), Stanislaus State on Friday and Fresno Pacific on Sunday. The Wolves host Oregon Tech on Sept. 14 at 3 p.m.
RIBICH WINS INVITATIONAL: Western Oregon junior David Ribich won the John Frank Oregon State Cross-Country Invitational on Saturday. Ribich finished with a time of 18 minutes, 21.6 seconds, 11 seconds ahead of second place. WOU took second in the team standings behind Portland. All seven of the Wolves runners finished in the top 19, including Justin Crosswhite (10th), Tyler Jones (12th), Michael Chin (16th), Josh Dempsey (17th), Alan Ekanger (18th) and Hunter Mosman (19th).
The women took third in the team standings, led by a 10th-place finish by Nicole Maurmann in 17:59.0.
Western Oregon will host the Ash Creek Invitational Friday at 5 p.m.
VOLLEYBALL GOES 0-3 AT TOURNEY : Western Oregon's volleyball team dropped three matches at the Concordia Labor Day Tournament Thursday through Saturday in Portland. The Wolves lost to No. 15 Florida Southern in the opening match of the tournament 11-25, 18-25, 25-20, 25-21, 15-9. WOU was swept by Embry-Riddle 25-22, 25-23, 25-23 on Friday and fell in four sets to Metro State on Saturday 25-22, 14-25, 25-9, 25-21.
WOU will compete at the Division II West Region Volleyball Showcase in Turlock, Calif. Thursday through Saturday. WOU will face Concordia-Irvine on Thursday, Hawaii Pacific and Chico State on Friday and Stanislaus State on Saturday.