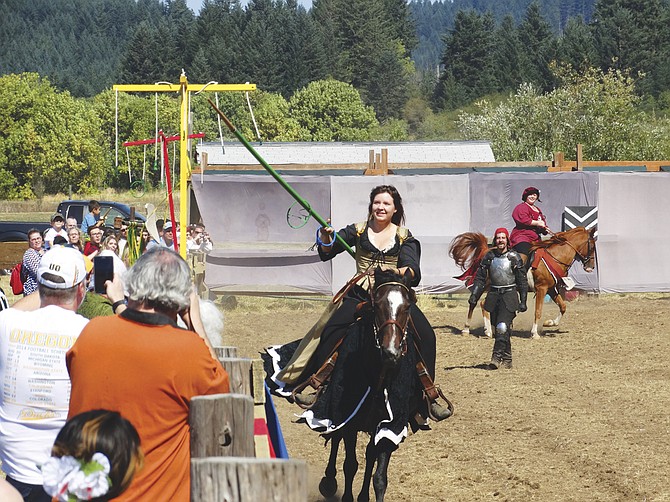 KINGS VALLEY — Costumes are optional, but a healthy sense of humor is must.
A little familiarity with 1500s European history would help, too, but it's not mandatory to have a good time at the Shrewsbury Renaissance Faire Saturday and Sunday.
"We have a good deal of fun with our patrons, so if you don't want to talk to anybody, this might not be the place to go," said festival organizer Adrian Hughes.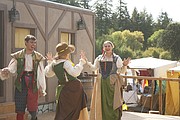 If you like interactive experiences, Shrewsbury fits the bill.
"You are going to see people come up and speak to you directly," Hughes said. "This is not a show where there is a distinction between the audience and the players."
Street performers, vendors, stage and Epona Equestrian Team's jousting act play the part to the fullest.
They expect audience participation.
But don't be intimidated, the "customs" aren't difficult to pick up and costumes aren't required.
The annual event — which celebrates a time and place centuries and continents removed — takes place Saturday and Sunday from 10 a.m. to 6 p.m. both days in Kings Valley in a field straddling the Polk-Benton county line.
Living history
What: Shrewsbury Renaissance Faire.
When: Saturday and Sunday, 10 a.m. to 6 p.m. Jousting tournament shows are at noon and 4 p.m. each day.
Where: Kings Valley, near the Polk-Benton county line.
Admission: $11 for adults; $5 for seniors and children ages 6 to 12; Free for children 5 and younger.
Of note: For VIP tickets email shrew@shrewfaire.com with the subject line "I want to be a VIP."
For more information, driving directions and a $1-off admission coupon, go to www.shrewfaire.co...
Shrewsbury added a few features this year, including a "children's kingdom" in the forested part of the village that includes a small storyteller's stage and a replica pirate ship.
Organizers created a "VIP" area at the tournament ring costing $10 for the "small" package and $50 for the "big," that offers prime viewing of the show. VIP privileges, including rubbing elbows with "the nobles" and meeting the knights, are only for the noon shows each day.
"You get a bunch of swag … and you get to watch the tournament while quaffing your beverage of choice," Adrian Hughes said.
In addition to regular vendors, a few more food selections are in the lineup. Kings Valley Charter School will be selling snow cones and gelato as a fundraiser for its foreign language club.
While the joust is the main attraction, festivalgoers have plenty of other entertaining options in watching historical re-enactment clubs. One will re-create legendary rivalries between the Picts and the Romans. They will be hunting each other around the village. Another will offer "squire training" and a "wooing contest."
You can even be jailed at Hangman's Alley — or have someone else put behind bars for a fee. On Saturday at 2 p.m., you can test your archery skills, with a chance to claim a cash prize.
"We are very full," said Jackie Hughes, the festival's executive assistant. "We have a lot of new things going on."