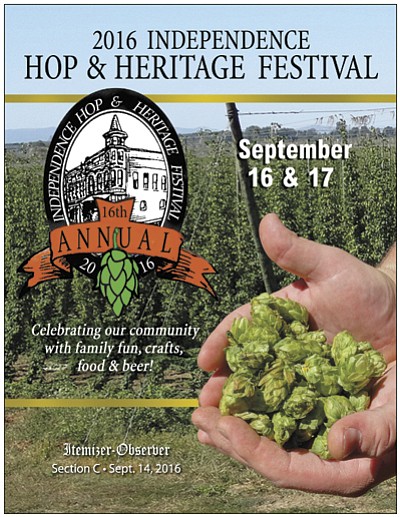 INDEPENDENCE — If you like what is happening in Oregon's craft beer industry now, you might want to thank a homebrewer.
Brewing beer at home was illegal in this state until 1978, long after Prohibition was lifted, said Gail Oberst, who is helping organize a contest during the Hop & Heritage Festival that recognizes the work of local brewers, the Homebrew Competition.
She believes it's not a coincidence that the craft beer industry in Oregon was born shortly after the law changed to allow people to brew beer at home.
"Homebrewers are the source of educated drinkers and brewers in training," she said. "Nearly every brewer you will meet in this state began as a homebrewer. And homebrewers loudly, and sometimes annoyingly, spread the gospel of good beer."
The Hop & Heritage Festival will be in that business, too, when it kicks off this weekend.
Friday is the unofficial opening to the celebration of Independence's hop-filled history with two "supernatural" events: the annual Ghost Walk and new Zombie Shuffle.
Equal parts history tour and ghost hunt, the Ghost Walk has "ghost hosts," who tell tour takers stories of otherworldly happenings in Independence.

Not scary enough?
This year is the debut of the Zombie Shuffle at 8:45 p.m., where people can dress up like zombies — or ghosts if you like — and compete for prizes.
On Saturday, Hop & Heritage get serious about hop history and the well-loved beverage made from it: beer.
Festival goers can begin the day at Independence Airport at 7 a.m. to watch the colorful hot air balloons lift off, then file into the Experimental Aircraft Association Chapter 292's hanger and have a delicious breakfast of old-fashioned flapjacks, sausage and eggs.
Hop & Heritage officially opens at 11 a.m. in Independence Riverview Park.
Contests, including the Homebrew Competition and Cooking with Beer highlight the activities, but there's plenty more going on.
Classic, and messy, competitions such as pie eating and scarecrow building provide entertaining old-fashioned festival experiences.
And you can't have a festival named Hop & Heritage without beer. If you're looking for a good Northwest brew, head to the Hopyard Tent, featuring beers from Gilgamesh, Santiam Brewing Company and Mazama.
Live music kicks off at 11 a.m. with four acts taking the stage before the festival comes to a close with a fireworks display at 8:30 p.m.