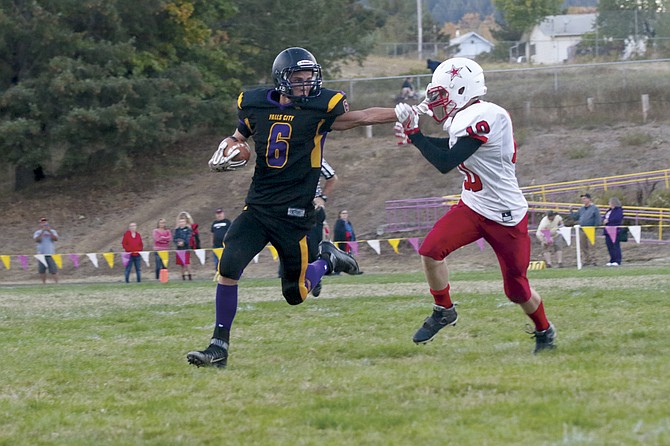 FALLS CITY — The start of Falls City's football team's season has not gone according to plan.
Injuries to several players, including starters Jeremy Labrado (quarterback) and Noah Sickles has left the Mountaineers to play at less than full strength — without an idea on when they will return. A 54-12 loss to Dufur on Friday was the latest setback.
"You give as good as you can give and hold your head up high at the end of the game," coach Laric Cook said. "The players are a direct reflection on myself and the coaches and there's not one person who is a quitter. It's not in our makeup."
While the Mountaineers have dealt with adversity, sophomore running back/defensive back Austin Burgess has emerged as a bright spot.
Against Perrydale on Sept. 2, he returned an interception for a touchdown. On Friday, Burgess scored one of Falls City's two scores against Dufur.
"He's one of the better athletes we have," Cook said. "He's long and lean and athletic. He catches the ball well and tackles well. He's going to be a heck of a football player before he's done."
Burgess' success on the football field comes as little surprise to those who know him best.
Burgess began playing football in elementary school. It didn't take long for him to realize he had found his sports passion.
"In fifth grade, I scored my first touchdown," Burgess said. "I did like two spin moves and got away. I loved football from that point on."
Burgess' older brothers, including Dallas High graduate Ethan Burgess, only helped his passion for football to grow.
"I watched them play growing up," Austin said. "They gave me a lot of tips."
The most important one?
"Hit them as hard as you can," Burgess said.
Despite missing several starters and facing the defending 1A state champions, Friday's blowout loss still stung Burgess hard.
"I didn't expect this at all," he said. "I was hoping our line would be able to push them. I didn't think the score would end up like this."
That competitive drive is what sets him apart, Cook said.
"Everything he does, he works extremely hard at," Cook said. "He does not like taking second. That, in my book, is the kind of guy I like. We need more people with that same mentality. He's becoming a young leader."
This season has taught the Mountaineers some difficult lessons so far.
But they are lessons players must learn one way or the other, Cook said. And he hopes that facing a team like Dufur shows them just how much work is left to be done.
"Dufur, we're hoping to get to that point," Cook said. "The kids have to buy into this. There's a lot of work that has to be put in. Wanting to be good is part of it, but it's not all of it. We have talented kids here. We just got to get a little tougher between the ears."