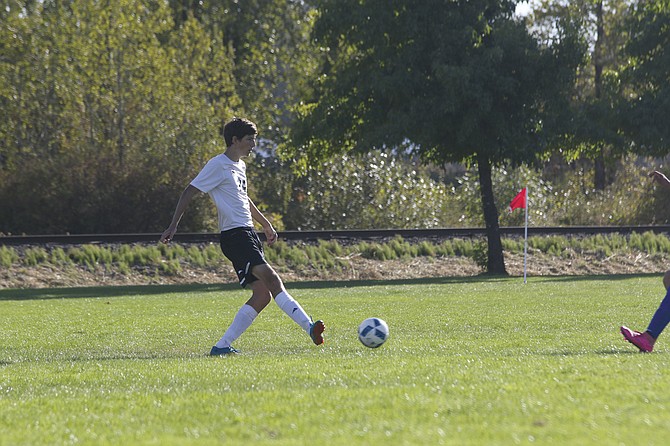 DALLAS — From the time he began playing soccer in second grade, Dallas junior Danny Walker has always been about the attack.
His mindset has usually been on one thing: Create goal-scoring opportunities.
Not anymore.
Dallas boys soccer coach John Jones was looking for someone to play defense. Walker's height, 6-foot-3, and experience made him an attractive choice to move to defense.
"I watched teammates struggle to get around him during practice," Jones said.
All that remained was getting Walker on board.
"Not really. At first no (it wasn't easy for me to accept)," he said. "But I saw what was best for the team and how to better the team."
And so, the lifelong goal scorer took on a new role — not that it's been easy. As a forward, Walker relied on his speed and ball handling to create opportunities.
"It's a big change," he said. "When I'm up top, usually there's (a pass up the field) and it's a sprint to the goal. On defense you have to mark up. You have to play much more physically."
There are still those moments that Walker gets the itch to go on the attack.
"Sometimes I want to run up with them and get a play going," Walker said. "But I have to hang back. It's a different mindset and knowing where to play."
Walker provides a unique perspective for the defense — that of a forward.
Playing defense has also allowed him to become a better teammate and leader.
"As a forward, I'd watch the defense get beat and get frustrated with them," Walker said. "Now I'm in that position. I know what they're thinking and I know how forwards play, so I can help the team on defense by sharing."
Despite the drastic change in position, Walker has emerged as a leader.
"He's stepped in and played really well there," Jones said.
Walker's leadership is among the reasons Dallas is hopeful about the program's future — despite the difficulties the team has faced in previous years.
The Dragons defeated St. Helens 3-2 on Sept. 6 — rallying from a 2-1 halftime deficit.
Cameron Overstreet scored two goals to lead Dallas to the victory.
"They were controlling the ball really well," Jones said. "They felt they were playing better than St. Helens was."
But a 5-0 loss to Benson on Thursday in a match that featured physical play throughout showed that while Dallas is making progress, the Dragons are very much a work in progress.
"Not only does the team affect our play, but the refs affect our play with how much they'll let us play before they blow their whistle," Walker said. "We try not to let any emotions get involved, but if it's the same guy who gets you every time, you get a little annoyed with them."
Handling different styles of play — and avoiding a letdown after a strong performance — are growing pains the Dragons are slowly learning, but are signs that brighter days are ahead for a program that has struggled mightily in recent years.
"It's something we're working on," Jones said. "It's part of building that winning culture, being consistent and working hard in practice. Being consistent in attendance at practice and with performance on the field. I saw a dip, I felt, in the Benson game. The practices between now and Thursday are extremely important. How do we respond to the highs and lows?"
Dallas plays at Southridge on Thursday at 7:30 p.m. and at Parkrose on Tuesday at 4:30 p.m.