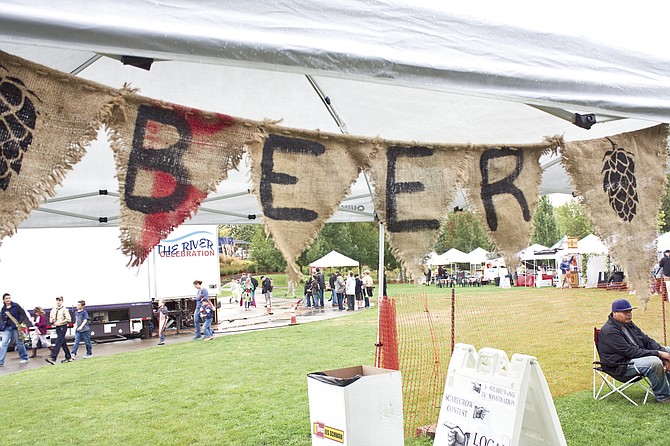 INDEPENDENCE — Six beers went head-to-head during the Homebrew Competition at the Hop & Heritage Festival on Saturday.
Only one would earn its maker the title "Homebrew Master."
A three-person judging panel — Dennis Marks, of Salem Home Brew Supply, Natascha Cronin, who launched the contest in 2013, and yours truly — was given the responsibility of selecting the beer-making champion.
A note on my judging qualifications: I'm no expert on the intricacies of brewing beer, but I know good beer when I drink it.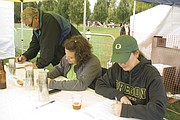 The contest had two categories, session-style beers (lighter, refreshing beers with low-alcohol content) and Hop Proud beers (those that showcase the aroma and flavor of hops, such as American pale ales and India pale ales).
I have an admitted preference for brews that could be described as hop proud over sessions, but like I said, I know a good beer when I taste it.
Scott Slater's session-style entry fits that description — and my judging partners agreed. We crowned Slater, of Jefferson, Homebrew Master for 2016. His winning brew earned 119 points out of a possible 150.
It was his first competition.
Slater said he began brewing in 1990, but stopped after several years because he wasn't thrilled with the outcome of his efforts.
Years later, his son inspired him to take up the hobby again. He re-introduced himself to the art of brewing with extract kits.
"After a year and a half, I was enjoying the results, but wanted to step up my game," he said.
He started brewing with whole grains a few years ago and decided to put his creations to the test on Saturday.
Slater said he took a "what the heck, alright" approach to entering the contest.
If he was, Slater shouldn't have been surprised with the win.
"I think it's pretty cool," Slater said.
Karen Hans, of Monmouth, took second for session beers.
For Hop Proud beers, Cole Brown and co-brewer Steve Richards of Independence brewed the top entry in the category. Kirk Studach, of Lyons, took second and Gabriel Williams, of Salem, took third.