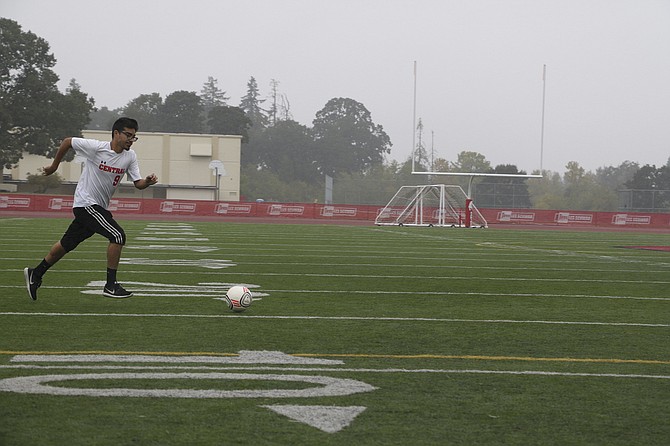 INDEPENDENCE — Some athletes grow up idolizing the superstars of a sport. It was far more personal for Central senior Tony Rincon.
"A lot of people can say a player like Messi or others inspired me to play," Rincon said. "It's not like that for me. Seeing my dad play, that's my inspiration."
Rincon's father played in indoor soccer leagues.
"I saw him play one match and I thought, I'm going to like this," he said. "Every time I'm out there I think of him and think I better get out here and bring it."
He certainly has in 2016, and teammates have followed suit as Rincon's leadership has helped lift the Panthers up.
—
Midway through Central's boys soccer team's 6-2 victory over North Marion on Sept. 13, Rincon wasn't happy.
The Panthers were ahead 1-0, but he wasn't pleased with the team's execution.
"They saw the fire in my eyes," Rincon said. "… On a scale of one to 10 (my competitiveness) is an 11. The first half, we didn't get off to a good start. We flipped a switch and said it's time to get going."
Central scored five second-half goals, and Rincon ended the match with a hat trick (three goals in a single match).
On Thursday, the senior recorded his second hat trick — the first time that's happened in school history, according to coach Joe Orozco — spurring the Panthers to a 9-0 victory over Cascade.
"I was trying to create more chances for my teammates because I felt I didn't need that many more goals right now," Rincon said with a smile. "But if they're still willing to feed me more chances, I'll take them."
The Panthers, which entered the week 3-0-1 overall, has scored at least six goals in each of the team's victories.
The Panthers have scored 21 total goals four less than the team managed all of last season.
"Tony has been leading the attack and has done it well," Orozco said. "He and senior Jose Herrera have been contributing to the team immensely by being good leaders, and their experience has helped the team on all aspects of the sport."
The team has also been dominant on defense. The two goals the Panthers allowed against North Marion were the first surrendered all season long.
"Our defensive game has been great," Orozco said. "I'm very pleased with how the boys are playing."
The 2015 squad advanced to the first round of the state playoffs. That's the bare minimum they hope to achieve this fall.
"We're hungry for more," Rincon said. "I'm a senior, but to see the other players have that hunger, I like it."
The desire for success is one thing. Translating that desire to results is another.
The chemistry that comes with experience playing with each other has helped. More importantly, the team found its perfect mix of seriousness and fun.
"Last year, we'd get down on each other sometimes," Rincon said. "Not anymore. We got out of that phase. We have more positive vibes. We go out there and get it."
Central hosts La Salle Thursday at 4 p.m. before closing out nonleague play at Newberg on Tuesday. Then comes league play — the next step on Central's march toward what it hopes is another postseason berth.
"We talk about having to climb the mountain," Rincon said. "To get to the top, you have to be willing to take things to another level. We are, and we want to climb higher and higher."