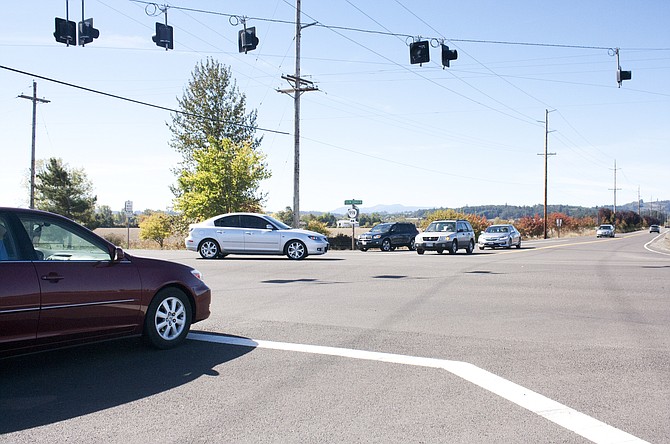 POLK COUNTY — An Aloha woman died in an accident Thursday morning at Clow Corner and Highway 99W.
The incident happened at 8:05 a.m. when Nathina Rose Montgomery, 20, of Aloha, turned northbound onto Highway 99W from Clow Corner Road. Her car was struck in the driver-side door by a dually pickup truck driven by William Claude McDonald, 41, of Toutle, Wash.
Montgomery was transported by Reach air ambulance to Salem Hospital with serious injuries. Oregon State Police was notified that she had died Monday from her injuries.
Four occupants from the pickup were transported by ambulance to Salem Hospital with minor injuries. Both vehicles were towed from the scene.
Safety restraints were worn, and airbags deployed in Montgomery's car.
Traffic was re-routed for about two hours while Oregon State Police troopers, Polk County Fire District No. 1, Polk County Sheriff's Office, Polk County Road Department and the Oregon Department of Transportation worked on scene.
The intersection of Clow Corner Road and Highway 99W has been the spot for 32 crashes in the last 10 years, said Lou Torres, spokesman for ODOT. Of those, five were very serious crashes, with one fatality.
The intersection's history of serious crashes puts it in ODOT's top 10 percent of similar roads, making it a priority, Torres said.
"It certainly has our attention," he said. "You have a high-speed rural roadway there. Typically, those are some of the toughest places to deal with traffic safety because vehicles are going to go fairly fast through there."
A busy intersection with a lot of cross traffic at 55 mph or faster presents a challenge when it comes to safety, Torres said.
Continued from Page 1A
One way ODOT planners hope to increase the awareness of cross traffic is by installing a true activated warning system this winter, he said.
"What that system is, is warning lights," Torres said. "These yellow beacon lights will go on when traffic approaches from the east and the west that will warn motorists traveling on 99 that there's traffic at that intersection, and they're waiting to cross."
Torres said when these warning systems are installed on other high-speed rural roads, it helps drivers pay more attention to entering traffic.
Most of the accidents — 25 out of the 32 — were at an angle, Torres said.
"They're (drivers) not judging the speed very well, so they're turning out and getting hit," he said.
A traffic light would not help increase safety, Torres said.
"Traffic signals don't work very well on those high-speed rural roadways," he said. "You go from angle crashes to really bad rear-ends and T-bones. You don't solve the problem; you just change the pattern of crashes."
Reducing the speed limit or declaring a safety corridor also would not work to increase safety, Torres said.
"If we lower the speed limit, it's not necessarily going to slow the drivers down," he said. "Motorists are going to go as fast as they think they can go. You'd have to literally have law enforcement sitting out there all the time writing out tickets."
ODOT officials are in talks with Polk County leaders about other alternatives to the intersection at Clow Corner and 99W, Torres said.
"We're looking at separating the intersection, taking the road that's coming from the east to west and moving that further to the south," he said. "We haven't determined what that would be. We want to reduce the conflict points."
However, that solution will prove costly, Torres said.
"Engineering the solution is much more expensive," he said. "Our goal is to limit the fatalities and the nature of those crashes so they're not so bad. We've had some bad crashes out there, no question about it."