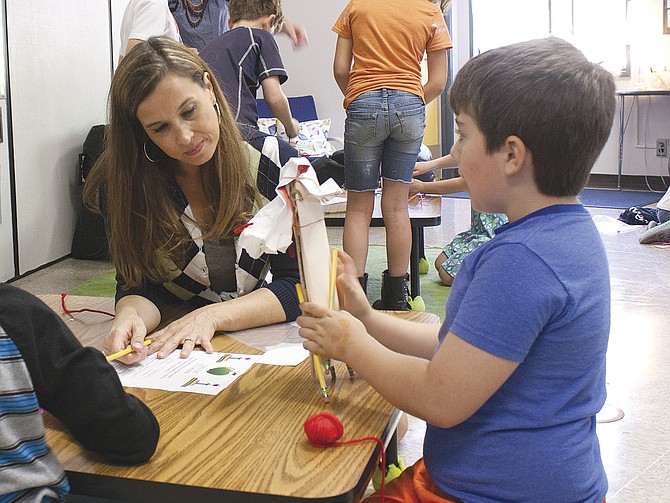 DALLAS — Nathan Floyd, Jonah Stork, Zelene Reed, and Chelsi Durham-Rivera need to make their apple tower taller.
The third-graders in Jennifer Casalegno's class at Oakdale Heights Elementary School have pencils, pipe cleaners, index cards, a ruler, scissors, glue, rubber bands, and string to get the job done. A rolled file folder makes up the bulk of the tower — which will eventually hold an apple at the top — but the group brainstormed ideas for making it even taller.
Can they use the pipe cleaners, the rubber bands, the index cards?
"What about the ruler? What can you do with the ruler?" asked Holli Paskewich, a graduate program coordinator for the College of Education at George Fox University in Newberg.
Paskewich offered that suggestion and watched as the four students brainstormed how they could improve upon their creation.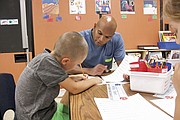 "I have faith in you," she said before letting the group work on its own. "I know you can do this."
Paskewich was one of five professors and staff members of the George Fox education graduate program spending "Serve Day" at Oakdale. They assisted with teacher prep, testing students on word knowledge, helping them with writing, painting and science projects, and even moving books out of storage.
George Fox closes its campus one day a year and its faculty, staff and undergraduate students donate an entire day to serving in the community. Serve Day began in 1999 as a way for students and employees to give back. On Sept. 14, more than 2,000 George Fox students and staff members worked on construction, painting, weeding, cleaning and visiting with seniors.
Or in the case of Oakdale's contingent, working with students. Ginny Birky, a professor at the school of education, said the group specifically requested visiting Oakdale.
Principal Maria Drennen is a student in George Fox 's doctor of education program and gladly accepted their invitation.
"We wrote to Maria and said, 'Would you have some jobs for us? Is there any way we could serve you?'" Birky recalled.
A high school teacher before becoming a professor, Birky said working with younger students is something she missed.
"I love it. I love interacting with the students," she said. "It's just fun to be back in schools."
Paskewich said the experience bought back memories for her, too.
"I've also missed being in the classroom," she said. "Not as a teacher, but as a mom. I volunteered for many years."
Teacher Heidi Schrock said the extra help was greatly needed. She said a lot of families in Dallas have both parents working so it's hard for parents to find time to volunteer to help with prep work and other tasks that need to be done for class projects.
"That's why it's nice for us to serve, because we know (teachers) will have to do it or give it to a parent," Birky said.