DALLAS — Kirk David Myrold, the Dallas High School teacher accused of having a relationship with a student, pleaded not guilty to three charges in Polk County Circuit Court Tuesday morning.
Myrold was arraigned on one count of luring a minor and two counts of second-degree sex abuse in the case that involves a 17-year-old female student. All three counts are Class-C felonies.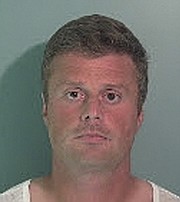 Polk County Circuit Court Judge Monte Campbell set the case for a preliminary hearing on Oct. 14 a 9 a.m. Myrold is ordered to have no contact with the alleged victim in the case and minors not related to him.
Dallas police arrested Myrold, a Spanish teacher, on Sept. 12 on one count each of luring a minor and second-degree sex abuse.
The arrest followed a report from the Dallas School District made that same day that a male teacher employed by the district was alleged to have been involved in an inappropriate relationship with a 17-year-old female student.
Dallas Detective Darren Buchholz found evidence supporting those allegations and arrested Myrold. He was taken to Polk County Jail and released on Sept. 12