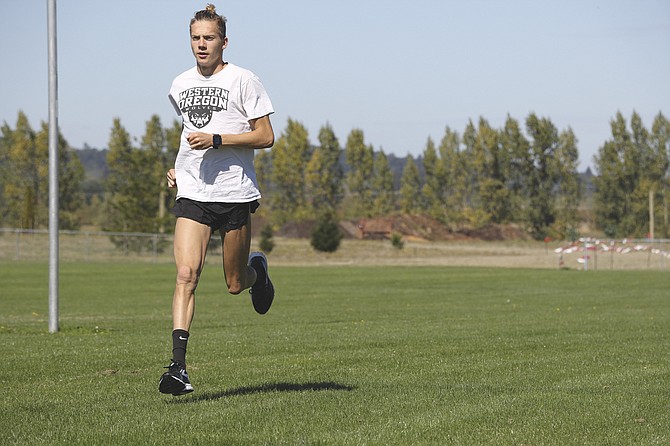 MONMOUTH — David Ribich has competed on big stages before. But Ribich, a junior cross-country runner at Western Oregon, hasn't quite found a challenge like the one he had in high school.
"Our high school choir took seventh at state my senior year," Ribich said. "I had a solo. It was the most terrifying competitive thing I've ever done. … I'd definitely choose running over singing competitively."
WOU has been reaping the benefits of that choice.
Through the Wolves' first three meets, he has finished first at the John Frank Oregon State Invitational and the Ash Creek Invitational and second at the Sundodger Invitational. He's not concerned with early season finishes, however. He's got his eyes set on much bigger goals.

—
Ribich's cross-country career began with a bang.
"I won the first race I ever ran in seventh grade," Ribich said. "I told my coach, I thought that's what I was supposed to do. I think that's when my coach knew that this would be a good thing for me to invest time on."
That same year, Krista Stangel won a state title while running for his high school, Enterprise.
"At our high school, whoever wins state gets a banner hung up in our gym," Ribich said. "That was a driving force for me. I told my mom I'm going to get a banner."
He had the desire, but Ribich didn't look the part of a state champion.
"I was 4-foot-11 and weighed 86 pounds entering high school," Ribich said. "I was pretty small for my age."
Running provided a sport where size didn't count for everything.
"Growing up, everyone needs to find that one thing that they can find confidence and support in," he said. "Slowly and surely I grew. I had great coaching. (My high school coach) Dan Moody, he's the reason why I'm able to have success in college. He let my body develop and he knew how to push his runners without breaking them."
During his senior season, Ribich captured a state title, but his times weren't fast enough to attract interest from Division I universities.
"Western was one of the only schools that seemed like they wanted me in a way," Ribich said. "They were the right fit. So many athletes try to go to a Division I school and just break when there's sometimes a Division II program that is perfect for what they need. When I looked at Western, I saw runners improve from high school instead of tapering off. That is important to me."
Ribich qualified for the NCAA Cross-Country Championships as a sophomore, finishing 67th.
"That was a high success point and a really low point for me," Ribich said. "I made it to nationals, which is what I wanted to do all season. I was in the top 20 for more than half the race and everything started falling apart. It was really a wakeup call. Once you get to that competitive of a level, everyone is fit. It's who is mentally tough that matters."
Ribich certainly appears to have a mental edge.
"The invitational in Corvallis was a competitive meet, but there were a lot of smaller schools," Ribich said. "Ash Creek was bigger and the Sundodger Invitational was huge. Coach Johnson did a good job setting up the schedule to where it got more and more competitive. The biggest thing now is we're thinking about building before we get into the championship season."
As a team, the Wolves' men's squad has seven new faces among their top 10 compared to a season ago. But Ribich said the team is a dark horse, one that could make some noise at the West Regional later this fall. As for his own hopes, Ribich doesn't want to share his ultimate goals, though a top-40 finish at nationals is one of his micro goals.
"In the most non-cheesy way running has gone from my identity to my passion," Ribich said.