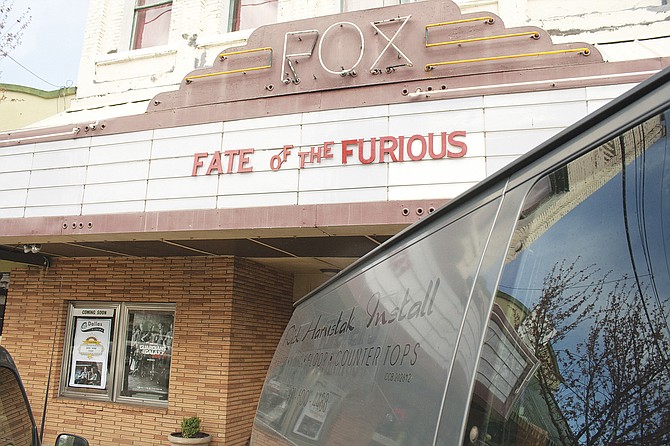 DALLAS — The Dallas Cinema, formerly the Fox Theatre, is gearing up for a fresh start.
The theater closed Friday and will re-emerge this Friday with an updated look inside, including a lobby remodel, new paint, a new snack bar, some sound upgrades, and auditorium seat cleaning.
"We will open Friday whether or not we are done," said owner Jeff Mexico on Monday. "I can still show a movie."
Friday's reopening is just the beginning of changes at the theater.
Dallas Cinema is applying for a license to sell beer and wine and adding more kitchen equipment to expand the menu.
"We won't be ready for food, beer and wine until the end of April," Mexico said. "I'm still waiting for the OLCC (license) to be completed. That takes time. Then we have to learn our oven."
Once the staff has a handle on the oven, the theater will offer pizza, burgers and fries, chicken strips, sandwiches, salads, nachos, sliders — in addition to popcorn, of course.
Mexico plans to apply for the city of Dallas' facade grant to change the sign, which still reads "Fox," and repaint the front of the building.
Changing the name is part of the process, he said.
"It had a reputation when I got it in 2007," he said. "I tried to improve it and everything, but it still looked the same outside."
He's hoping a new name will help pique curiosity enough that people will want to give it anoyher try.
Mexico said he had this vision for the theater for a long time, but couldn't commit the time to making it happen.
"With the drive-in closed, I've got more time to concentrate on this, get it where it should be, and get more people in the doors," he said. "It does OK, but we need more people in the doors. Everybody wants beer and wine these days, and the remodel has been a dire need for a long time."
He offered a similar menu at the Pix Theater in Albany before he sold it four years ago. It's still serving beer, wine and an expanded menu, and doing well, he said.
The plan is to replicate that success at Dallas Cinema.
He said adding beer and wine to the menu won't detract from the family-friendly atmosphere.
Most showings will be open to all ages.
Mexico said in his experience at the Pix, he didn't have problems with people consuming too much alcohol during movies.
"It's not like a bar. People will have one or two glasses of beer or wine," he said. "They aren't going to sit here and get drunk. At the Pix, I never had a problem."
Dallas Cinema will offer some weekend shows for adults only.
"We are going to do Friday night and Saturday night late shows and they will be 21 and older only," he said. "That will be approximately a 10 p.m. show, just because it would be nice to have a late-night date night without any kids."