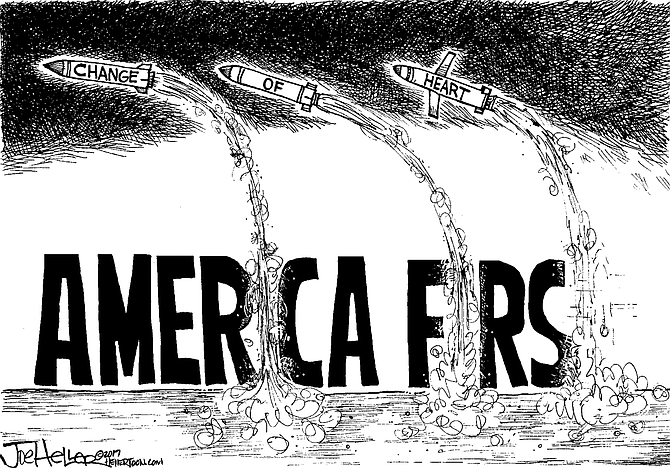 Indy Station should be finished first
On a daily basis as I enjoy Independence City Park, I watch the progress of the new construction project as it takes shape.


There was another construction project that was started and never finished. It's an eye sore on the city, and one that is forgotten about. I'm talking about the site at 203 Monmouth St.
As I sit there and think about that site and building, one thing comes to mind: Will this project be completed or will a skeleton of a building never completed be sitting there as the property on South Second and Monmouth streets.
We, as citizens, should stand up and hold the mayor accountable for this project that was never completed. The city should not allow new construction projects to start until the one on South Second and Monmouth streets is either completed or torn down.
Jimmy Christensen
Independence
Indy detective's column appreciated
Thank you for the column written by Detective Sarah Scharf of the Independence Police Department regarding Child Abuse Awareness Month.
The column was very clear, concise and easy to understand. It also gave valuable information for family members, friends and members of the community who suspect abuse is happening to children.
Let's hope that this information can keep our most vulnerable children safe from harm.
Patty Taylor Dutcher
Monmouth
City did disservice to community
Ding dong the trail is dead. On April 3, the Dallas City Council did their part to effectively kill the possibility of making the Rickreall Creek Trail System a regional trail by approving a change to the urban growth boundary to include the Dallas Golf Course property on Orrs Corner Road while removing conditions that the trail be extended through the property.
The property owner, who admitted that the usage as a golf course should never have been permitted in the first place, testified that inclusion in the UGB was essential to the survival of the business because of plans to build a restaurant, a 20-space RV park, and an expanded pro shop that could not be built under the current provisional permit.
I find it interesting that the property owner said there is no room for a 10-foot wide trail on an edge of the property, but has plenty of room for all the proposed new amenities.
The council gave the property owner everything they wanted while getting nothing in return.
The, "Not in my backyard" argument presented by Ceres Gleann residents seems weak.
The trail, if routed on the north edge of the golf course, would pass a total of 10 Ceres Gleann lots.
The city had several options, the most obvious being to send the matter back to the planning commission for further consideration, since the property owner decided to no longer honor the decision of that body.
The city could have collaborated with the property owner to find ways to create a trail segment at no cost to the property owner.
The timeline for completing a trail extension could have been reconsidered.
None of these were considered. What about the goals of the Dallas 2030 Vision? Ignored. Shame on you, City Council.
Joe Koubek
Dallas
Reps need to support students
About 644,000 Oregonians are facing food insecurity, about 33 percent of those people are youth, and about 10 percent are seniors. The Dec. 27 Itemizer-Observer article regarding food insecurity on Western Oregon University's campus, covered a lot of students' daily struggles on campus, referencing a study from 2014, about 60 percent of students on my campus struggle to eat.
It is appalling that we know more than half of students at Western Oregon University are struggling to afford food and yet we are looking at a 12 percent tuition increase. Things are not looking bright for me; the average Oregon student graduates with $30,000 in debt. We are drowning in debt and many are unable to afford basic necessities. Students need our local decision makers to prioritize investment in higher education.
Sen. Jackie Winters and Rep. Paul Evans need to be champions for their constituents attending Western Oregon University by supporting the Oregon Student Association's Budget Asks, $765 million for universities, $636 million for community colleges, and $155 million for the Oregon Opportunity Grant.
It is important that we are giving all folks a fair shot at an affordable higher education.
Ceph Poklemba
Corvallis