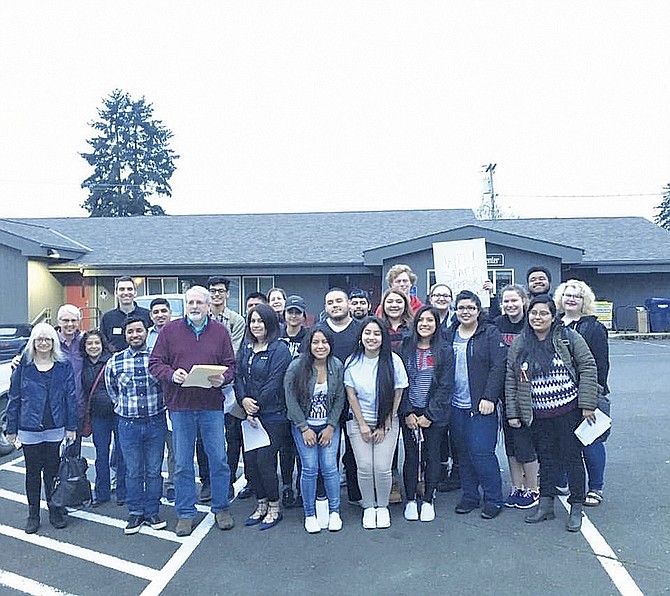 MONMOUTH — The Monmouth City Council received a standing ovation from Western Oregon University students and Monmouth residents who filled Volunteer Hall at the council's April 4 meeting.
The reaction came after the council unanimously approved an inclusivity resolution, addressing immigrant concerns while also addressing all members of the community.
"It would be a good statement of how we stand on the issue," City Manager Scott McClure said. "It wouldn't change any of our practices, but it would make a good statement."
Councilor Jon Carey thanked everyone who participated in bringing the inclusivity resolution to council. The council had heard from dozens of students and residents since late January before passing the inclusivity resolution.
"We're capitalizing on your expertise, your interest, and coupling that with Oregon law and other things," he said. "Hats off to you all who got this ball rolling. It's a good spot to be, as far as I'm concerned, and it allows the council to sort of get out in front of some of these things and provide leadership for our community."
Councilor Laurel Sharmer also thanked the audience and those who have participated and testified on behalf of an inclusivity resolution.
"Thank you to all you white and brown and men and women and retired and children and adults who would not go away without letting us make Monmouth an inclusive city," she said.
Mayor Steve Milligan said that in the 12 years he has served as a city official, he had not received as many emails as he had on April 4 before the council meeting.
"I'm really glad that people are participating," he said. "My only regret is that we can't do more. There's so much that still needs to be done beyond being an inclusive city for solving problems for those who are dreamers for more hope for the future, so you can get a green card or citizenship."
Milligan encouraged the audience to continue the movement to the state and federal level.
"We'll all work together to make a better place to live," he said.