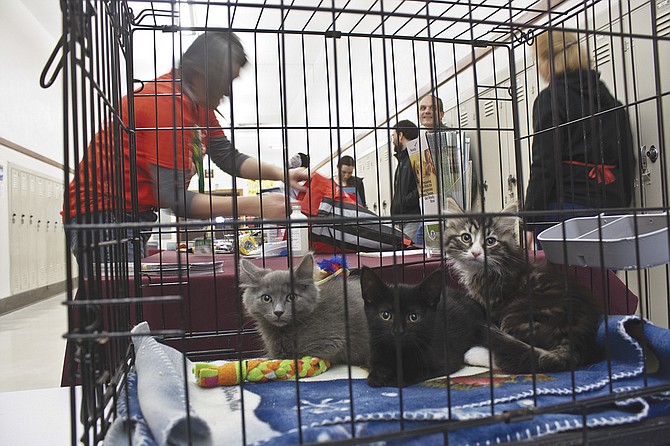 SALEM — Willamette Humane Society's booth at Saturday's Community Prepare Fair had an emergency kit for a kitten on display.
Most contents are logical: food, water, treats, medications, food dishes, pet carrier and … a pillow case?
Paula Fordham, who serves on the Willamette Humane Society board, said it's a handy trick if you must move your cat quickly: Just pick him up, put him into the pillow case and hold him.
That sounds like something that happens in a feline kidnapping, but if you ever tried to get a cat in a crate when it didn't want to, you probably see the time-saving value. It might be less stressful for your kitty than the crate, Fordham said.
"Probably the only time your cat sees a crate is when it's going to the vet," she said.
That said, you better pick a pillowcase with strong material — maybe denim.
Fordham, also a Community Emergency Response Team member, agreed to serve on the board if she could advocate for pet preparedness. Events like the Prepare Fair in Salem, which offered people information and tips on how to ready themselves for a disaster, was the perfect place to spread the word.
Fordham said it's common that people have emergency supplies for their families, but forgot about their pets.
"It's surprising how not uncommon that is," she said. "If people are prepared and self-supporting at home, they will be in a much better position when we are back up and running."
FEMA recommends pet emergency kits in general should include a supply of food, water, medicines and medical records, a first aid kit, collar with ID tag, a harness or leash, pet carrier, sanitation supplies, familiar items — such as a favorite toy or blanket — and a picture with you and your pet in case you are separated.
Fordham said store those items in the pet carrier or in a bucket that you can pick up quickly.
She recommends keeping your vet's contact information and stress reducing items for your animal, such as muzzles or thunder shirts for dogs.
"Get thinking about what is best for your pet," she said.
In addition to supplies, you should make plans for evacuating with your animals and talk to your vet about what your pet needs. For more information: www.ready.gov.
Fordham said preparing your pets really is preparing yourself.
"If your pet is in distress, you are in distress, and your kids are in distress," she said.