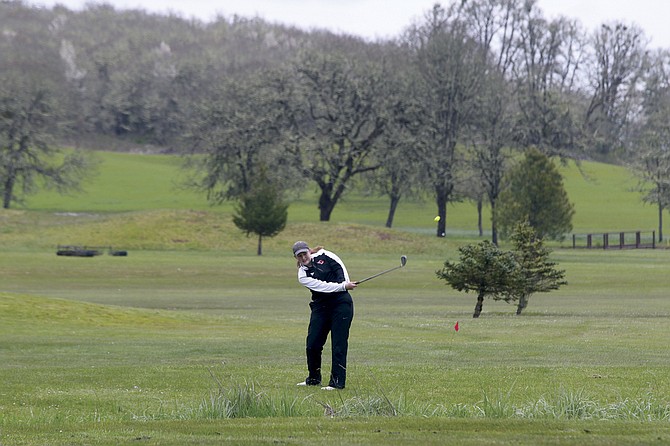 DALLAS — Dallas' girls golf team has seen success in recent years, thanks in part to senior Kailee Curtis, who has earned her spot among the state's best golfers.
The rest of the players want to show that they are ready to do the same.
"Right now, our goal is to be in the top four and earn a chance to play at regionals for a trip to the state tournament," coach Danielle Landis said.
That will be no easy task.
Dallas finished fifth on Monday at Cross Creek Golf Course, despite competing in steady rainfall.
The top four teams at the regional district tournament will qualify for the state tournament.
With teams so scoring so closely together, that means for Dallas' varsity team, which has included Curtis, Natalie Crabtree, Emma May Johnson, Missie Davis and Madison Shuck, shaving even a single stroke off their scores can make a big difference.
Whatever success Dallas finds as a team, it will be Curtis who leads the charge. She placed 14th at state in 2016, and will be a contender to defend her district title later this spring.
"One area we are focusing on is having a game plan that she can stick to as she plays," Landis said. "That way, she doesn't get too wrapped up with what is happening around her. We also have worked on her short game to help improve from 50 yards and in."
Each golfer has worked hard to improve and, each time out on the course, Landis can see their games come together a little better.
"I have seen a lot of growth in general," Landis said. "The short game has been one of the biggest things we have tried to improve. We also have seen some significant improvement with our ball striking, so that is exciting to compare from where they were a year ago."
The biggest thing holding them back may not have anything to do with how their swings look — it's battling the mental stress that a round of golf can bring and, instead, trusting everything they've practiced and learned.
"(We need them) to stay out of their own minds and not overthink things," Landis said. "Golf is very mental, and so if they continue to trust their swings and decisions, they will overcome the challenges they will face."
If they can do that, a lot can happen between now and the end of the season — and Landis said her golfers will be ready to try and pounce at every opportunity.
"I just want us to be able to compete at our best," Landis said. "We have a couple of conference matches left, and one thing about golf, you never know what could happen."
Dallas will compete at Tukwila in Woodburn Monday at 10 a.m.