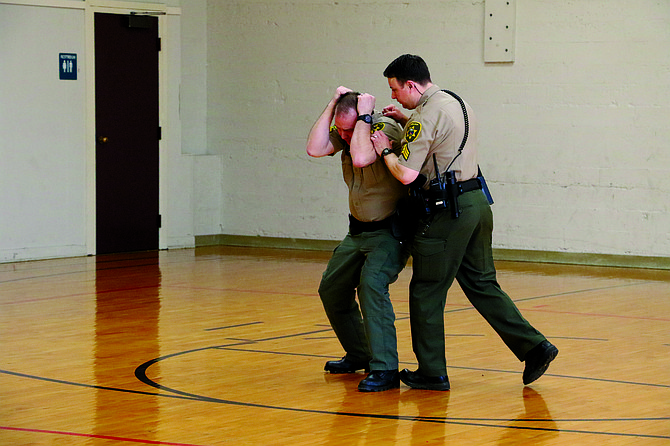 DALLAS — There are no rules when you are defending yourself.
"This isn't a boxing match; it isn't a wrestling match; it isn't martial arts," said Polk County Sgt. Jason Ball at Saturday's basic self-defense class in Dallas. "You need to do anything and everything in your power to stop or thwart an attack and get away."
Don't be a victim
Tips for avoiding an attack, or winning if you are attacked:
• Don't fall victim to the mindset of, "It won't happen to me."
• Park your car in a well-lit area close to your destination.
• Walk with confidence. The less you look like a victim, the less likely a potential attacker is to choose you.
• Be aware of your surroundings and stay off your phone when walking to and from your car.
• Let someone know if you are going for a run or walk, especially if you are exercising alone.
• Trust your instincts. If something doesn't feel right, don't just write it off. Confront the person or call police. "Even if it turns out to be unfounded, I don't care," Sgt. Jason Ball said. "Give me a chance to respond."
• Use windows or other reflective surfaces to see what is behind you.
• Lock your doors.
• Cut back overgrown shrubs around windows and doors of your home, eliminating hiding spots.
• It's OK to say no, and say so loud and clear. This accomplishes two things: It lets a potential attacker know that you are going to fight back and lets other people know you are in danger.
• Carry a weapon: Pepper spray, Taser or a firearm are traditional options, but pens and keys can be used, too. Keep in mind if carrying pepper spray, a Taser or firearm: Make sure you know how to use it. "If you are going to carry a firearm, I think it's incumbent upon you and it's your responsibility to be able to hit what you are aiming at," Ball said.
The same applies to pepper spray and Tasers. Ball said the worst time to learn to use those tools is during an attack.
• Take an advanced self-defense or martial arts class.
• Remember there are no rules in self-defense. Biting, scratching, poking and screaming as loud as possible are all fair game.
Ball said that's the attitude women and girls — or anybody, really — must have when it comes to self-defense.
In 2016 in Polk County, there were 213 victims of domestic or family violence and 117 victims of physical or sexual assault.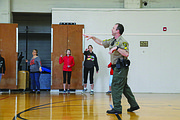 Ball told the women and girls in Saturday's class to visualize what they would do to avoid becoming one of those numbers.
"You need to mentally prepare yourself," Ball said. "If you are on a long drive, whatever it is, think about what's going to happen, what am I going to do if someone jumps up from behind and grabs me? What am I going to do if someone comes up face-to-face and grabs me and attacks me?"
Those mental rehearsals — along with training from a self-defense or martial arts class — will prevent you from "freezing" if it does happen to you.
"Rehearse how you would fight and we always win; we never lose," he said. "Never, never, never, never."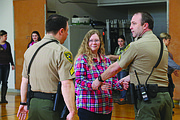 Sgt. Mike Redding, Ball's partner in teaching the class, adds to that, "The bad guys should hurt a little bit if they are trying to attack you."
The techniques taught Saturday: eye gouges, foot stomps, shin grazes, jaw, ear and nose strikes, and effective use of elbows, knees and feet certainly could accomplish that objective.
But that is secondary to the overall goal — the real win — of getting away from an attack, or avoiding one to begin with.
Ball said attackers, whether they are strangers or someone you know, all go through the same decision-making process — observe, orient, decide and act, also called an OODA loop — when trying to overcome a victim.
At first, attackers will have the advantage, so the strategy is to use your own OODA loop to throw theirs off. For example, an attacker may not anticipate a victim stomping on his foot or digging the heel of a shoe into his shin. That may cause enough distraction and pain to the attacker for you to run.
Getting away is the objective, not grappling with your attacker.
"Unless you've trained a lot or are very experienced in martial arts, you should never stand here and fight this person," Ball said.
All the while, you should be screaming to draw attention to the situation and that you need help.
"Good people are going to come to your aid," Redding said. "Fortunately, the bad guys are the minority."
Ball said Saturday's class had 21 women and girls, up from seven in the first class.
Laura Dotson said she noticed a flyer for the class at her church and decided to take two of her daughters, Dorathy and Courtney.
"I took a few defense classes when I was my daughters' age and I realized that my daughters have never had the opportunity, and I really wanted that for them," Laura Dotson said. "It's a great mom-daughter date just to get started because I have four beautiful daughters. I want them to feel confident and know how to protect themselves and know what to do if they are ever in a dangerous or difficult situation."
Dorathy said she thought the most critical part of the training is to get away.
"It's not just standing and fighting. It's being able to break out quickly and incapacitate them for couple seconds while you can run away," she said.
Courtney said she believed the most useful techniques are those designed to let you escape a grip, especially one you don't see coming.

Laura Dotson said she's going to have Dorathy and Courtney teach her other two girls what they learned.
"Because bad guys don't discriminate with your age or stature," she said.
Ball said he and Redding will teach more classes, though they haven't set the dates yet. He said there's a waiting list just as long to take the class.
"I think I get as much out of it as they do. I really enjoy teaching the class," Ball said. "You see women in the class have those kind of moments when they say 'Oh, this is a good technique.' That's when you start building on that self-confidence."