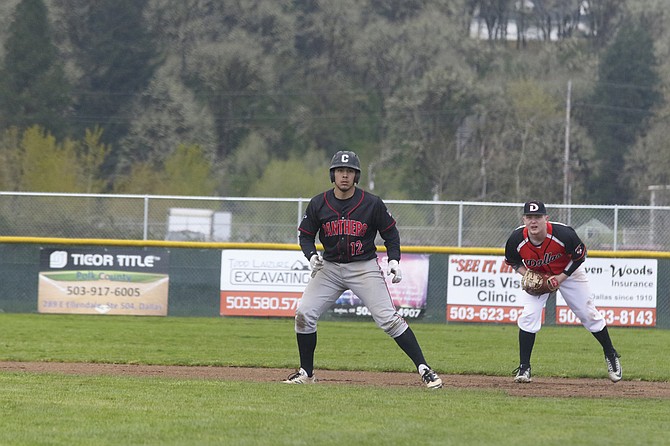 INDEPENDENCE — Last year, Central's baseball team struggled to find its identity. With a 12-14 record overall and 10-11 mark in Mid-Willamette Conference play, the Panthers showed they could be a threat — but not consistently.
They're out to change that perception in 2017.
The Panthers won two of three games last week, defeating Dallas 5-3 on April 11 and Silverton 3-2 on Saturday before losing to Dallas 5-4 on Saturday.
Central began a three-game series against Crescent Valley Tuesday after press time. The Raiders entered the week tied for first in the MWC. The Panthers entered tied for third and with a chance to leap frog Crescent Valley in the league standings with a series sweep.
"I think we're making good progress so far," senior Luis Amador said. "We have to keep playing good defense because we know errors will kill us. We have to work on our offensive approach and just keep improving every game."
—
Amador isn't the type to get riled up. He's not one to shout at teammates or show his emotions during a game.
"I'm known as a relaxed person," he said. "You don't really see me losing my cool. I try and be nice and relaxed and let the game come to me."
Don't mistake that for a lack of intensity.
Amador is one of the Panthers' most feared hitters and has been a steady presence at first base for years — a far cry from his freshman season when Amador was a jittery, inexperienced player worried about making a mistake.
"There were a bunch of nerves when I was a freshman," Amador said. "As my confidence built up, I don't worry about nerves anymore. I learned not to try and force things or rush things."
That confidence is prevalent throughout the team.
Against Dallas on April 11, Central rallied from a 3-2 deficit in the sixth inning.
"We were able to get a couple hits and score when we needed to," Amador said. "We stuck with our game plan and didn't give up."
The rain did its best to dampen the games between the two rivals.
The teams started a second game on April 11, but postponed the completion of the game until Saturday due to weather. A third game was cancelled on Monday due to weather conditions.
Changing schedules on the fly is par for the course so far this spring, but it can wreak havoc on players who are never quite sure if a game will actually happen.
"The weather can be tough because it interferes with your rhythm," Amador said. "It's hard when you're expecting to play and then you find out you're not. When the weather is bad, we try and get on the turf when track's not there, and we spend lots of time in the batting cages."
Despite battling the weather, the Panthers (8-3 overall, 5-3 MWC) entered the week in a tie for third place in the league standings behind Crescent Valley and Corvallis.
Central is in a prime spot to compete for a league title, but Amador knows the Panthers can't be passive letting this chance go by.
"We have to see how much potential we have to make it far," Amador said. "Sometimes, when we're up, we can kind of take our foot off the gas when we should keep going. Against teams we know we can beat, we sometimes put it on cruise control. We need to go all out every inning."