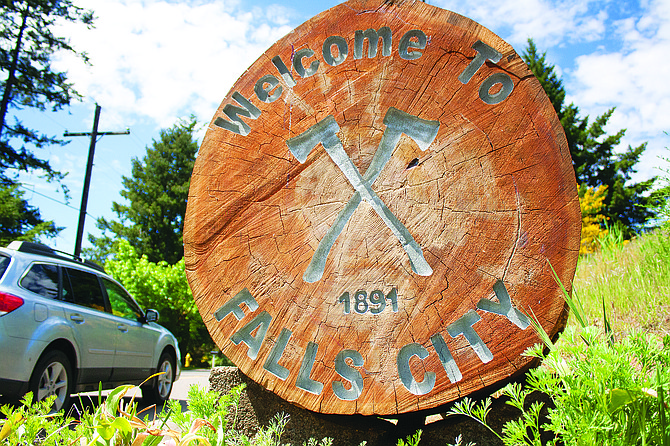 FALLS CITY — The Falls City Budget Committee approved the city's 2017-18 budget Thursday, on the same night it was presented.
That budget included money to hire a city manager, restart the city's municipal court, and documents the rapid decline of money supporting Wagner Community Library operations.
Falls City 2017-18 budget:
General fund — $469,000
Streets — $456,000
Water — $515,800
Sewer — $247,520
Utility reserve — $306,151
Wagner Trust — $89,228
Community development revolving loan — $145,936
The 2017-18 general fund amounts to $469,800 and covers expenses for the city council, court, fire, administration, and parks departments. Property taxes account for $104,000 of the revenue.
The bulk of general fund resources, $287,000, will go to the administration fund, $52,600 more than the current budget.
The plan to hire a full-time city manager or city clerk accounts for the increase, Mayor Terry Ungricht said, who serves as the budget officer for the city.
"I budgeted for two clerks and a manager. That will be tight, but I left money in contingency," he said. "We budgeted heavy for this last year, in case we hired a manager. I do think that is a good thing to do when you have a volunteer working for you, because he might want to go fishing."
The joke was welcomed with laughter and nods from around the table. Ungricht has been that "volunteer" the last two years. Recently, he brought the proposal to the Falls City City Council to hire a manager.
Ungricht designated $21,000 to begin the city's new municipal court after years of not having a code enforcement program. The city established an agreement with the city of Independence to hold court sessions.
"We need to have a code enforcer. I was hoping to be able to contract that," Ungricht said. "I threw in the very barebones minimum to hopefully get code enforcement up and running this year."
The general fund has $64,798 in contingency.
"That's money that you can draw on if I'm wrong on the cost of a manager, if I'm wrong on the cost of the court," Ungricht said. "That's kind of our bank to draw off to make sure that we are OK."
The city's streets fund, which is separate from the general fund, is budgeted at $456,000, including a $250,000 federal grant to repair bridge.
"This year, we are going to spend a lot of money because of the weather we've had," Ungricht said. "The public works committee is looking at different opportunities to try to get some of our streets that are deteriorating, to try to get them resurfaced. It's very expensive."
The sewer fund has $247,520 budgeted in 2017-18, but the city left with uncertainly as to amount of support expected from the federal government for needed system upgrades.
The President Donald Trump budget priorities currently don't include Community Development Block Grants, which the city had hoped would cover the bulk of the project.
"Without that, we can't do the sewer project," Ungricht said. "From all indications I'm getting, we might be a year out, which is really going to hurt us, because it's an aged system. This is the weak spot in our city."
At the beginning of the 2017-18, the Wagner Fund will have $89,228. It's the major source of support for the Wagner Community Library.
"City costs are now between $46,000 and $47,000," Ungricht said.
With only about 1.5 years of money left, the response to a survey asking citizens if they would support paying more taxes for library operation is critical, Ungricht said.
He said if the answer is "no," there may not be many options left but to close Wagner.
"I'm really afraid that we are looking at probably closing our library," he said. "We are paying ($79,000) on the fire department. We only bring in $104,000 in property taxes. To me, the fire department is much more important that the library, even though I grew up in a library. It hurts me, but I don't know what to do unless we can bring in another source of income to operate the library."
Ungricht stressed the council has the final say on that, but closing the library by Jan. 1, 2018, would be his recommendation if the voter survey shows little support.
Budget committee member and City Councilor Dennis Sickles said the city needs to contact the Falls City School District to share its concern.
He said it's the city's turn to hold a quarterly joint meeting on the library next month.
"Then we could talk about this, what we as a community should do, because it's a joint venture. I think we can have some answers, once we have time to get the surveys in and evaluate it. The library (advisory) committee can go over what they are thinking and maybe come prepared on some recommendations on what to do."
For more information or to see the budget, go to: www.fallscityoregon.gov.