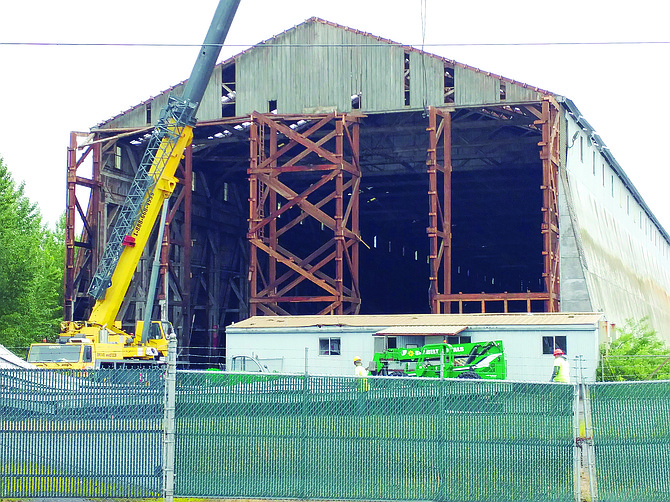 DALLAS — AJ Foscoli, Dallas' Economic Development Director, believes the next year or so has a lot in store for Dallas.
"I think that Dallas is really poised for a lot of growth, a lot of potential," he said.
The city is already seeing evidence of that as industrial businesses are eyeing Dallas as a possible location.

He referred to one such project, without elaborating on what it is or who is behind it, in a workshop meeting with the city council in July. He said the business' site selection process has been educational for the city, and that will work in its favor, even Dallas doesn't make the final cut.
"The fact that it is still on-going is really good. The fact that's been about eight months now and the project is still alive is really encouraging to me," Foscoli said. "We will keep working on it until we get a thumbs up or a thumbs down. If we do end up getting a thumbs down, the process itself is helping us. We've strengthened our relationship with our partners, from Northwest Natural, from Pacific Power, Business Oregon.
Foscoli said Oregon has a limited amount of industrial land left that is centrally located for businesses, which is making Dallas more attractive to outfits wanting locate or relocate in the Willamette Valley.
He said the most noticeable piece of vacant industrial property in Dallas, the former Weyerhaeuser mill site, has been improved by the removal of the building known as "Noah's Ark."
The giant drying shed, leftover from the mill operation, has been salvaged for the its valuable 100-year-old timber.
"I'm a little bit saddened, to be honest, to see the Ark go away, but the timber in that is some of the most valuable out there," Foscoli said. "However, because it is going away, it is making that site much more ready for something else. The way that building was, it would have been challenging — not impossible, but challenging — to shoehorn something that fit."
On the commercial side, particularly in the downtown, Foscoli sees his role as a facilitator between businesses and the owners of buildings with space to lease or buy.
"There is a bit of a dance that goes on between what a person feels their asset is worth and what a person coming in feels that it's worth," he said. "It's my job to get them to talk to each other and not just walk away."
Foscoli said he's pleased to see the development of the career and technical education program at Dallas High School.
The Dallas School District hired a former Dallas agricultural teacher, Tim Ray, to find the best courses of study for the Dallas area and develop programs around them.
That could go a long way toward filling another piece of the economic development equation: Keeping business supplied with well-trained workers.
"We are lucky to have Tim Ray at the high school tasked with that very thing, to create a talent pipeline that can help our businesses in Dallas and in the region," Foscoli said. "I have high hopes that the CTE program at the high school will grow and incorporate lots of skills that we can use."