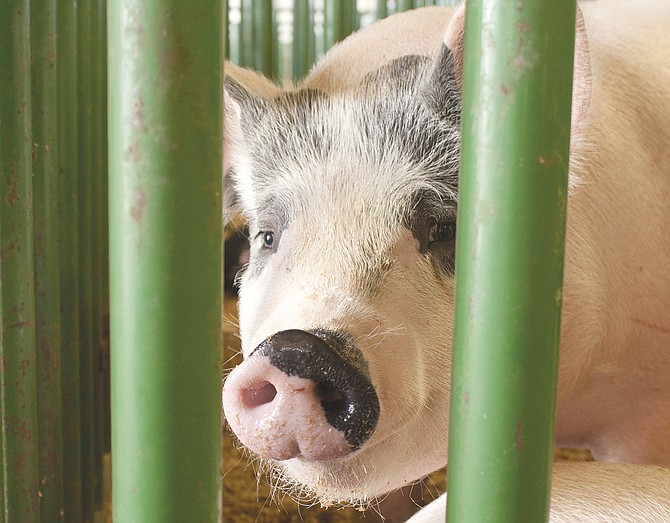 RICKREALL — The Polk County Fairgrounds & Event Center buzzed Monday morning in the scramble to get everything ready for the venue's event of the summer: The Polk County Fair.
"It's a zoo," said Fair Manager Tina Andersen, laughing. "I'm a zookeeper."
Moo at the Moon
What: 2017 Polk County Fair.
When: Thursday through Saturday 10 a.m. to 10 p.m.
Where: Polk County Fairgrounds & Event Center, 520 S. Pacific Highway West (99W), Rickreall.
Admission: Daily: adults, $8; juniors (ages 11 to 15), $5; seniors (62 and older), $5; children 10 and younger are free. Season passes: adult, $20; junior, $10; and senior, $10. Parking: $3 per car.
Of note: Seniors are free on Thursday until 4 p.m. and members of the military are free on any day with a photo ID. Due to the rodeo, adult admission after 4 p.m. on Thursday is $10.
The three-day county showcase kicks off Thursday and runs through Saturday — with everything from barns full of prize animals to cooking contests to a goat obstacle course on the schedule.
This year's theme, "Moo at the Moon," is anchored in the Great American Eclipse, a mere nine days following the conclusion of the fair.
But don't worry, the Polk County Fair has plenty to see here on the ground.
Andersen said FFA and 4-H entries are challenging her creativity in making space in the animal barns and exhibit areas, which is just what she likes to see.
"I only do this for one reason — for the kids. Really watching the kids show their animals — and last year we had some amazing sewing and woodworking projects for 4-H — that's the reason I do this job," she said.

The weather report has temperatures for the fair in the high 80s, but that may seem cool after last week's intense heat. Andersen is grateful for the slight cool down for the fair this week.
"It's going to be hot, but not as hot as last week," she said. "We nearly died trying to set up last week."
Live entertainment will be on stage all three nights, and the 2017 performers are all a little bit country.
"We changed things around quite a bit and brought in some bigger acts," Andersen said. "For the first time in years, we brought in The Zaniac Comedy Show."
A comedy show will be on stage all three days, and Magician Louie Foxx will dazzle the crowd on Thursday at 4 p.m.
Peirce Avenue, Nate Botsford and Jessie Leigh are all new to the Polk County Fair.
Quickly becoming a fair favorite, the Hell on Hooves Rodeo is back on Thursday.
This year's rodeo will feature bareback riding, saddle bronc riding, bull riding, barrel racing and mutton busting.
"Since he brought the rodeo in, we have broken records for Thursday night (attendance)," Andersen said. "That's why he wanted to do it on Thursday. Even in the heat last year, we had record attendance on Thursday."
The ATV Rodeo, steadily growing in popularity, rides into the arena at 7 p.m. on Friday.
This year's event lineup has a few changes, with the annual truck and tractor pull canceled and American Thunder Monster Truck and Mega Truck Show added to Saturday night slate of events.
Polk Soil & Water Conservation District, which usually has a display and information at the entrance, has moved its booth inside the fair and will be presenting information on small animal care and an introduction to beekeeping.
Kids have entertainment choices galore out on the playground.
Bouncy houses, an obstacle course, water balls, an inflatable playground, mechanical bull and slide will be set up in one part of the lawn while Rickreall Fire's firefighting-themed obstacle course is featured in another.
The kids' safety demonstration area, sponsored by the Confederated Tribes of Siletz Indians of Oregon, has been moved to the playground and will be giving away free car seats, bicycle helmets, and life jackets.
New this year is Dragon Theatre, offering on hands-on activities and shows, and Houston's Dinosaurs Alive.
If you see a dinosaur running loose through the fairgrounds, don't be surprised. It's all part of the interactive display and photo booth making custom T-shirts.
Andersen said there's a family connection between the dinosaur wrangler and with the conductor of another popular kids' attraction — the Rawhide Express Train.
"I'm really excited about having him here," Andersen said. "He's the brother of the guy who does our train."