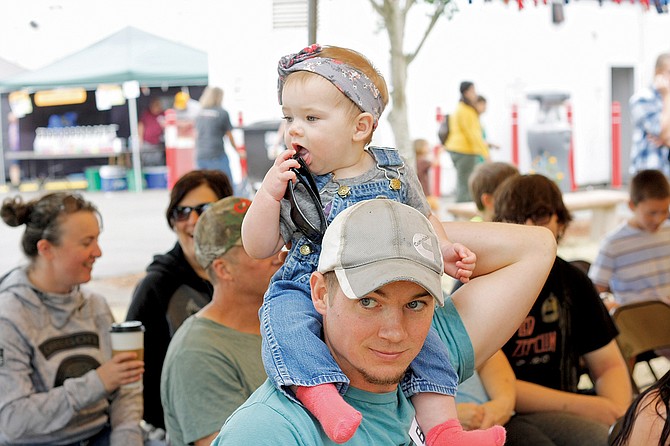 RICKREALL — Brylie Emigh is only 8 months old, but is already carrying on a family tradition.
Brylie has bright blue eyes, an infectious smile and is dressed in overalls, a flowery head band — and has a fascination with her father's sunglasses.
Waiting patiently in the arms of her dad, Matt Emigh, of Dallas, she's about to go in front of the judges in the Beautiful Baby Contest at the Polk County Fair Saturday.
While called the Beautiful Baby Contest, the judges aren't actually looking for the prettiest child, but the top three in a host of categories, like "Bluest Eyes," and "Best Dressed."
Not that he remembers, but Matt had been in the same place as his daughter back in 1990. He was only 10 months old at the time, so he doesn't know much about the contest, but he did win in a category.
"I don't remember which," he said. "I just have a picture."
Matt and his wife, Lindsay, thought it would be fun to see if Brylie could follow in her father's footsteps.
"I was excited," Lindsay said. "He wanted her to win so I could brag about both of them."
Lindsay, who also grew up in Dallas, said she would come to the contest with her family every year. She said the category she thought Brylie was most likely to place was "Most Looks Like Dad" or maybe "Best Smile." Seeing the resemblance between dad and daughter, you understand where she gets her opinion on the former.
So did the judges, announcing Brylie as one of the top three in that category.
Daddy was all smiles walking up with Brylie to get her ribbon to add to the family's collection
More like this story